A Quick Overview of the Best Full Spectrum CBD Products
CBD or "Cannabidiol" is one of the most popular compounds in the world that provides relief in many areas of a person's life. Including ease in Stress, Anxiety, Pain, Insomnia, and more.
However, not all CBD products are the same. When you try to purchase a CBD product, It will say Full Spectrum on the label. It is also sometimes called "whole-plant extract", so what does this mean?
There are three major types of CBDs and the most popular one of them is Full Spectrum CBD.
What is Full Spectrum CBD?
Full Spectrum CBD is one of the three types of Cannabidiol that contains a whole plant extract including hundreds of Cannabinoids (including THC, CBG, CBN, and more), flavonoids, and terpenes that are naturally found in the Cannabis or Hemp Plants.
The whole plant extract of Full Spectrum CBD works together in synergy to create entourage effects in our body which greatly benefit our endocannabinoid system as compared to pure CBD.
Full Spectrum CBD also produces better results on problems like pain, anxiety, and insomnia even at lower doses.
Is Full Spectrum CBD Legal?
Full Spectrum CBD is legal on the federal level in the U.S. as long as it is extracted from Hemp and contains less than 0.3 percent of THC.
However, States like Idaho, South Dakota, and Kansas have restricted the purchase and use of Full Spectrum products due to its THC content.
Any Full Spectrum CBD product extracted from Cannabis containing more than 0.3% of THC is Federally Illegal in the US, while legal in the states where Recreational Cannabis has been legalized.
Check the current CBD laws of your state, here.
What does Full Spectrum CBD do?
A full-spectrum CBD and its product contain a wide range of Cannabinoids and Terpenes that work in synergy within our body and regulate our endocannabinoid system (ECS) to achieve a more balanced state.
Endocannabinoid System is a complex cell signaling system that is responsible for regulating various features within our body including mood, pain, inflammation, stress, anxiety, sleep, and more.
With Full Spectrum CBD, the ECS will achieve a state of Homeostasis which leads to better mood, less pain, and inflammation, reduction in stress, anxiety, depression, and more such effects.
Is Full Spectrum CBD Psychoactive?
A Full Spectrum CBD extracted from a Hemp Plant containing less than 0.3% of THC will not cause any psychoactive effects aka "High".
You may feel a certain sense of calmness, less anxious, or even sleepy at first when you start taking the CBD, but at any appropriate dosage, the Full Spectrum CBD is safe and won't get you "Stoned".
Does Full Spectrum CBD show in Drug Test?
Unfortunately, Yes. Full Spectrum CBD can show up in a drug test.
Most drug tests are designed to look for THC which is present in Full Spectrum CBD products, even though it is under 0.3% but using it regularly for a long time will lead to testing positive on a drug test screening.
If your work requires you to take drug tests, avoid using Full Spectrum CBD products.
Full-Spectrum CBD Benefits
The effects of Full Spectrum CBD far surpass its counterparts which leads to many benefits, like:
Full Spectrum CBD contains a wide range of Cannabinoids, terpenes, and flavonoids, and together they exhibit entourage effects that play a crucial role in balancing the endocannabinoid system of a body.

According to a

study

, Full Spectrum CBD has therapeutic properties and can help manage chronic pain and inflammation.

Full Spectrum CBD is known to provide relief in insomnia, anxiety, stress, panic disorder, depression, and seizures. Even the

FDA

has approved the use of CBD to treat Severe Forms of Epilepsy.

Full Spectrum CBD is likely to be more effective than Broad Spectrum CBD and CBD Isolate at the same dosage.
Full-Spectrum CBD Side Effects
The Side Effects of Full Spectrum CBD:
Although Full Spectrum CBD is a federally legal substance, it is restricted in certain states of the US.

Full Spectrum CBDs are likely to test positive on a Cannabis Drug test screening.

Some people can also experience

side effects of CBD

like reduced appetite, drowsiness, dry mouth, and mood change but they are pretty minimal and well tolerated.
Should you Try Full Spectrum CBD Products?
If you are not concerned about a drug test and do not have a sensitivity to THC, then Full Spectrum CBD will be the best option for you.
Its therapeutic effects are far more effective than its counterparts because of the entourage effect.
Below, we have mentioned 3 of the best full-spectrum CBD product in the form of oil, gummies, and softgels.
Under $30 = $

Between $30 to $60 = $

Over 60$ = $$
Weedime's pick for the best Full Spectrum CBD Products
Green Roads Full Spectrum CBD Oil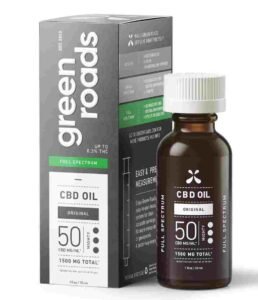 CBD Strength:

300mg, 750mg, & 1500mg of CBD per bottle

Price:

$ – $$

COA:

Available

Customer Review:

"

Amazing results. I feel like a whole new person while using this cbd oil. I could not be more satisfied. I would highly recommend this product.

"
Green Road is one of the top CBD brands that create the best CBD products. The company employs an in-house team of pharmacists who creates high-quality CBD products like this Full Spectrum CBD oil.
The CBD oil comes in three sizes, which are perfect for CBD beginners to expert users. It is also vegan and gluten-free and contains no artificial flavor or colors.
PlusCBD's Full Spectrum CBD Gummies
CBD Strength:

300mg & 600mg of CBD per bottle

Price:

$ – $$

COA:

Available of their Website

Customer Review:

"

I've been taking these since June 2020 and I love them! They help with anxiety and mood. I especially love the new taste. I always have an extra jar."
Gummies are the easiest and most delicious way to take CBD and you can't go wrong with the dosage.
PlusCBD is a well-known CBD brand that has been making CBD products for years and now they have perfected the formula with these Full Spectrum CBD gummies.
These delicious Gummies come in two CBD strengths options and two flavors options: cherry mango and citrus punch.
The gummies are made from high-quality ingredients and are gluten free.
Joy Organic's Full Spectrum CBD Softgels
CBD Strength:

750mg of CBD per bottle

Price:

$$$

COA:

Available

Customer Review:

"

These new Full Spectrum CBD Softgels are my new favorite! My mind and body are more relaxed after taking these. The tension and tightness that I may have in my body just melts away as I drift blissfully off to sleep."
Joy Organics makes unique kinds of Full Spectrum products, like these softgels.
The CBD softgels contain 25mg of premium full-spectrum CBD per capsule that are made using nanoemulsion technology, resulting in a more easily absorbed and effective CBD product.
How did we choose the Best Full Spectrum CBD Products?
We have vetted many Full Spectrum CBD products against the following criteria and included the one that qualifies, the criteria includes:
If the CBD product has an up-to-date certificate of analysis or lab tests done from an independent lab.

It a CBD product is farm bill compliant and contains less than 0.3% of THC

If a product is free from harmful substances, like pesticides, GMO, metal solvents, and more.

We also considered the customer reviews, manufacturing process, and brand Image of a CBD company.
Thousands of people every day are using Full Spectrum CBD products to manage Stress and Anxiety, Sleep better, and live a better quality of life.
Although Full Spectrum CBD contains little THC it won't cause any "High" but a heavier dosage may cause some discomfort.
CBDs sometimes are known to interact with a certain type of Medicine, so it is advised to consult a doctor if you are planning to use CBD and taking prescribed medications.