In recent years, there's been a surge in interest in natural health solutions, and CBD products have been at the forefront of this movement. CBD creams, in particular, have become a popular choice for people looking to find relief for many physical issues.
This year has brought us a host of new CBD cream choices, all claiming to be the best at what they do. However, with so many options, it's easy to feel overwhelmed.
That's why we've carefully picked out the 9 best CBD creams amongst many options available on the market.
Additionally, we'll also take a close look at what CBD creams are, how they work, the potential benefits they offer, what to expect, and what to watch out for in terms of side effects.
Quick links to the 9 best CBD creams
This article contain affiliate links
CBD cream is a topical product infused with the cannabidiol (CBD), a non-intoxicating compound derived from the hemp plant.
These creams are designed to be applied directly to the skin and are formulated to offer moisturization to your skin while providing localized relief from a variety of physical conditions, such as pain relief, inflammation relief, and other skin-related issues.
Detailed review of the best CBD creams
CBD Type:

Full-spectrum

CBD Strength:

1000 mg

Quantity:

56 g

Reason for use:

General pain relief and wellness

COA:

Available

Customer Review:

"I have used other CBD creams but this one is far better than others. Fast acting, long lasting and no ugly odor. This is now my go to for CBD cream!"
FABCBD CBD cream is the epitome of excellence in the world of full-spectrum CBD creams. With a compact 2 oz. (56-gram) bottle, it delivers a powerful 1000 mg of CBD, making it an outstanding choice for those seeking a potent product for general pain and inflammation relief.
The texture of this CBD cream is also a revelation. It's light, silky, and incredibly non-greasy. Moreover, it also emits a subtle blood orange scent that is a refreshing departure from overpowering fragrances, offering a gentle aroma with every use.
One of the key factors contributing to the quality of this CBD cream is the source of its hemp. It's non-GMO and organically grown in the pristine fields of Colorado. This ensures that the foundation of the cream is as pure as possible. Plus, FABCBD's commitment to purity extends to the exclusion of any harmful ingredients, making it a safe and responsible choice for your wellness needs.
With over 450 positive reviews and a growing base of delighted customers, this CBD cream has solidified its status as one of the best-sellers of the FABCBD brand.
CBD Type:

Broad-spectrum

CBD Strength:

750 mg

Quantity:

120 ml

Reason for use:

Relief from joint pain, backache, and sore muscles

COA:

Available

Customer Review:

"

These work quickly and effectively. As soon as I put them on my knee the pain did not return and seems to work continuously, not like the many other products I've used in the past."
cbdMD, a brand that is a leading name in the CBD industry, is renowned for producing high-quality CBD products that are not just effective but also affordably priced.
The cbdMD CBD cream is their prime offering which reflects their commitment to quality and is hailed as one of the finest broad-spectrum CBD creams available in the market today.
It is available in a generous 4 oz. (120 ml) tub, where each container boasts an impressive 750 mg of broad-spectrum CBD, which is designed to target joint pain, and backaches, and provide relief for sore muscles.
One of the hallmarks of cbdMD is their unyielding dedication to sourcing only the highest-quality ingredients. This commitment is evident in their CBD cream, which is free from artificial perfumes or dyes.
In addition to the potent CBD infusion, cbdMD has blended its cream with a range of soothing ingredients, like arnica, aloe vera, coconut oil, shea butter, argan oil, and FDA-approved histamine dihydrochloride and together they offer an enriching experience.
The result is a top-tier CBD cream that doesn't just aim for relief but elevates your well-being.
CBD Type:

CBD isolate

CBD Strength:

750 mg

Quantity:

30 g

Reason for use:

Muscle and joint relief

COA:

Available

Customer Review:

"I've been using the muscle and joint cream for a few years now. It works well for sore muscles so that I get a better nights sleep. The fragrance is very light, not heavy. Have recommended it to friends."
Step into the world of exceptional CBD wellness with Green Roads, a trusted name celebrated for producing top-tier CBD products like their CBD cream which is one of the best CBD isolate creams available in the market.
Packaged in a convenient 1 oz. (30-gram) twist-and-pump bottle, where each bottle delivers a remarkable 750 mg of pure CBD isolate, making this an excellent choice if you are looking for the purest CBD experience.
Apart from CBD, this CBD cream also contains a thoughtful selection of ingredients like lavender, cucumber, avocado oil, and vitamin E which are thoughtfully blended to promote your skin health and overall well-being.
Additionally, it also has a subtle and soothing lavender scent that adds an extra touch of luxury to every use, making this cream a delight to incorporate into your daily routine.
However, what truly sets Green Roads apart is their commitment to quality and safety. Their CBD cream is meticulously crafted by an in-house team of pharmacists which ensures that every aspect, from formulation to the final product, meets the highest standards of quality and safety.
CBD Type:

Broad spectrum

CBD Strength:

500 mg

Quantity:

50 ml

Reason for use:

Face relief and recovery

COA:

Available

Customer Review:

"I love everything about this cream, the texture, soft aroma, and the way my skin feels, I have mixed skin, oily and dry, and its always been hard to find something that wasn't too heavy or that was hydrating enough. I love how this cream feels on my skin."
Elevate your skincare routine with CBD For Life face cream, a standout in the world of CBD-infused facial products. With nearly 700 glowing reviews, it's earned its place as one of the best CBD face creams available in the market.
Packaged in a generous 1.7 oz. (50 ml) tub, each container boasts an impressive 500 mg of CBD, setting the stage for a remarkable face cream that stands as a testament to quality and effectiveness.
This CBD cream also takes pride in what it excludes; it's free from GMOs, parabens, and any other artificial coloring. Additionally, it is fortified with moisture-boosting hyaluronic acid and a blend of naturally sourced actives that work in harmony to deeply hydrate your skin.
According to the customer reviews, many users have reported reduced redness, fewer breakouts, even skin tone, a softer and smoother texture, and an overall boost in radiance while using this cream.
CBD Type:

Broad-spectrum

CBD Strength:

1000 mg

Quantity:

118 ml

Reason for use:

Skin, muscle, and joint relief

COA:

Available

Customer Review:

"I really like the Joy Organics CBD Cream. I use it on my hands and shoulder often. My thoughts are that I feel better using it than I did prior. Thank you Joy Organics for making such a great product!"
Joy Organics CBD cream is a standout product on our list, and here's why. This 4 oz. (118 ml) travel-sized container packs a potent punch, with an impressive 1000 mg of THC-free, broad-spectrum CBD in every tube.
Whether you're on the go or simply prefer a convenient size, this container offers a generous supply of CBD that can be easily stowed in your travel bag. It's your ideal companion for relief wherever life takes you.
One of the key distinguishing features of this cream is its delightful fragrance-free quality. This unique attribute transforms your wellness experience into an unadulterated, pure, and refreshing journey. No overpowering scents, just the clean goodness of CBD.
But the story doesn't end here. Joy Organics goes the extra mile by offering a specialized CBD cream with menthol, designed to cater specifically to athletes and sports enthusiasts. This variant is tailored to facilitate a faster recovery from physical discomforts, making it a valuable asset in your wellness and fitness regimen.
CBD Oil Biotech CBD Cream
CBD Type:

CBD isolate

CBD Strength:

250 to 10,000 mg

Quantity:

118 ml

Reason for use:

General relief from pain and inflammation

COA:

Available

Customer Review:

" I really like the product. This is my third order. This order is partially discolored. I've always had great success with this company. Great products and excellent customer service."
Biotech CBD cream stands as a testament to excellence, garnering a resounding chorus of over 1,000 positive reviews on its website. The secret to their success? A CBD isolate cream that caters to the diverse needs of a wide-ranging audience.
Unveil the power of choice with Biotech's varied strength options, ranging from a gentle 250 mg to a robust 10,000 mg and seven other potency options in between. It's a lineup that accommodates everyone, from those starting their CBD journey to the most seasoned users seeking the utmost strength and relief.
Each jar is a generous 4 oz. (118 ml), ensuring you have a plentiful supply of this CBD cream to elevate your wellness routine.
But what truly sets Biotech CBD cream apart is its dynamic blend of ingredients. With the infusion of menthol and natural CBD-infused hemp oil, it transforms into the ultimate CBD cream for working professionals.
CBD Type:

Full spectrum

CBD Strength:

500 mg

Quantity:

88 ml

Reason for use:

Relief from eczema

COA:

Available

Customer Review:

"This cream is amazing! The dry skin on my elbows felt soft and moisturized after one use and the relief lasted all day. Plus, it isn't heavily scented, which is a plus."
Embrace the soothing touch of nature with Not Pot Oat Puff CBD Eczema Cream, a beloved gem in the world of CBD creams, with over 100 positive reviews on their website. This 3 oz. (88 ml) tube offers a healing embrace, containing 500 mg of sustainably sourced, hemp-derived CBD in each generous serving.
Not Pot has your values covered, as this cream is entirely vegan and cruelty-free. It's a testament to their commitment to clean and ethical skincare. To make your experience even better, this cream is free from any artificial fragrances or harmful additives.
The magic of this cream lies not only in its CBD infusion but also in the harmonious blend of natural ingredients like colloidal oatmeal, chamomile, coconut oil, and aloe vera gel come together to create a symphony of soothing relief for various skin-related issues, particularly eczema.
You can use this CBD cream daily or reserve it for those pesky mosquito seasons when irritated patches become a common issue.
Lazarus Naturals CBD Cream
CBD Type:

Full spectrum

CBD Strength:

2000 mg

Quantity:

75 ml

Reason for use:

Relief from bruises and injuries

COA:

Available

Customer Review:

"Used this when I had pretty serious bruised ribs. It was worth a review to say the least. Made my recovery more manageable."
Lazarus Naturals CBD cream is a powerhouse, designed to deliver robust recovery from all kinds of bumps and bruises. Crafted with high potency, full-spectrum CBD, this cream is your go-to solution for soothing inflammation, reducing pain and discoloration from injuries, and promoting tissue growth.
Each tube of this cream offers a generous 2.5 oz. (75 ml) in quantity, containing a formidable 2000 mg of full-spectrum CBD. Lazarus Naturals knows that value matters, and they've ensured you get incredible CBD potency that delivers the most bang for your buck.
But what truly sets this CBD cream apart is their meticulous usage science-backed ingredients such as calendula, arnica, and nettle. These additions enhance the potential of CBD and maximize relief, creating a comprehensive recovery experience.
If you're looking for a value-for-money CBD cream that doesn't compromise on quality or potency, Lazarus Naturals CBD cream is your ideal choice because no other CBD cream on the market can beat it in terms of affordability.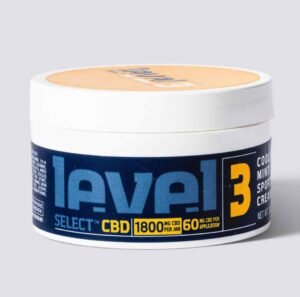 CBD Type:

Broad spectrum

CBD Strength:

1800 mg

Quantity:

85 g

Reason for use:

Relief and recovery from sore muscles and sports injury

COA:

Available

Customer Review:

"Of all the topical products I've tried, this cream has helped me the most. The relief is longer lasting and it doesn't have the burning sensation. Also, the exceptional customer service that I received is remarkable. Thank you so much."
Level Select CBD cream is designed to support gym-goers and sports personnel in their recovery.
It comes in a 3 oz. (85 gram) bottle and packs a powerful 1800 mg CBD punch, which is tailored to help you manage sports-related injuries, minimize muscle soreness, and provide relief from all the aches and pains that can keep you from being at your best.
Level Select knows that sports demand the best, and their sports cream delivers exactly that. But what sets this cream apart is its dynamic blend of ingredients.
In addition to CBD, it also features the cooling sensation of menthol. This cooling relief is designed to target the affected area, accelerating your recovery and ensuring that you're back in action as quickly as possible.
How did we choose the best CBD creams?
Selecting the best CBD creams is no small task, and we've taken it very seriously. We've followed a methodical process to make sure you get the most reliable and effective options. Here's how we did it:
Quality check:

The first and most crucial criterion was the overall quality of the CBD creams. We examined many cream's production standards, the source of CBD, and the reputation of the companies behind these products. We only considered creams from reputable, transparent manufacturers.

Potency assessment:

We know that the strength of the CBD matters when it comes to effectiveness. We assessed the concentration of CBD in each cream, making sure they were potent enough to deliver the intended relief. Stronger CBD creams can often provide more profound and lasting results, especially for chronic issues.

Ingredient scrutiny:

The additional ingredients in CBD creams matter greatly. We carefully examined the ingredient lists to ensure that the products are made with high-quality, safe, and preferably natural components. We favored products with organic ingredients and minimal additives, as this tends to align better with overall well-being.

Price evaluation:

We also considered the cost of each CBD cream and compared it with the value it offers. While quality is paramount, we also wanted to make sure the creams provide good value for your money.

Customer feedback:

We didn't rely solely on our assessments. To ensure that our selections align with real-world experiences, we examined many customer reviews and feedback. Positive testimonials from users who've experienced relief with these creams played a significant role in our decision-making process.
By rigorously evaluating CBD creams across these five key criteria, we have ensured that the options we've presented in our list are the cream of the crop. Each one has been carefully chosen for its quality, potency, ingredients, value, and positive user experiences.
Read More: CBD Buyers Guide
CBD cream works by taking advantage of your body's innate endocannabinoid system (ECS) and the unique characteristics of your skin. When you apply CBD cream directly to your skin, the active CBD compounds get absorbed through your skin's outer layer and interact with the ECS that are present there.
The ECS, a widespread network of receptors and neurotransmitters that are present all over your body, plays a pivotal role in this process.
By affecting the ECS, CBD in the cream can regulate various processes in your body, including pain and inflammation relief. CBD's anti-inflammatory and analgesic (pain-relieving) properties make it an effective tool for addressing conditions associated with many types of skin discomfort and swelling (1, 2).
When applied to a specific area of your body, the CBD cream directly targets the ECS in that region and provides the necessary relief as needed.
How long does CBD cream take to work?
The time it takes for a CBD cream to begin working can vary from person to person and it also depends on several factors, including the product's potency, the amount of application, and your unique physiology.
However, you can expect to feel relief from CBD cream within 15-45 minutes after application. Nevertheless, it may take a few days to a week of consistent use, especially for chronic conditions to experience the full benefits of a CBD cream.
How long do the effects of CBD cream last?
The duration of the effects of CBD cream can also vary from person to person.
Typically, the relief from CBD can last from 2 to 6 hours after application. However, frequent reapplication may be necessary if you require ongoing relief, especially for chronic conditions.
One of the standout features of CBD creams is their ability to offer targeted, localized relief. When you apply a CBD cream, it directly impacts the specific area where you need relief.
This precision is invaluable if you have any isolated discomfort or skin conditions. It means you can experience a quick relief without affecting the entire body, which sets CBD creams apart from orally ingested CBD products.
You can also use CBD creams for general moisturization and skin wellness. However, most people use it for the benefits, like:
Pain relief:

CBD creams are widely recognized for their potential to alleviate pain, making them a preferred option for individuals dealing with chronic discomfort or acute injuries.

Anti-inflammatory properties:

Inflammation is at the root of many health issues, from arthritis to skin conditions. CBD's anti-inflammatory properties can help reduce swelling and redness, providing comfort to those with conditions like arthritis or dermatitis.

Skin health promotion:

CBD creams also offer benefits beyond pain relief. They are often used to improve skin conditions like eczema, psoriasis, and acne. The anti-inflammatory and antioxidant qualities of CBD can assist in soothing irritated skin and promoting overall skin health.

No risk of dependency:

CBD is not addictive which means you can use CBD creams daily without concern for developing a dependency.
Side effects of CBD creams
CBD creams generally have a very strong safety profile, with little to no risk of side effects. Although, there are a few things that you should keep in mind when using a CBD cream for the best experience:
Allergic reactions:

Some people can experience allergic reactions to specific ingredients present in a CBD cream, especially if they have known allergies to botanical extracts or other components in the product. It's essential to carefully review the ingredient list and, if you have allergies, consult with a healthcare professional before using a CBD cream.

Dryness or redness:

In some cases, the use of CBD creams can cause mild dryness or redness of the skin. This may be more likely to occur with creams that contain other ingredients, such as fragrances or preservatives, that are not well-tolerated by your skin. Choosing creams with minimal additives and keeping your skin hydrated can help mitigate this side effect.
So basically, you have to be aware of other additional ingredients present in a CBD cream and make sure to shop for high-quality CBD creams that are free from any artificial fragrance or additives.
Can you use CBD cream every day?
Using CBD cream every day is generally considered safe and is a common practice for people seeking long-term relief from various conditions.
CBD creams are not addictive, making them suitable for daily use without the risk of developing any physical dependency. Their localized application allows you to target specific areas of discomfort, making daily use practical and efficient.
Especially, if you are dealing with chronic conditions, such as persistent pain, inflammation, or skin issues, daily use of CBD cream can offer consistent relief.
These creams can also be a part of your broader wellness routine. However, you must follow the product's recommended usage and dosage guidelines as mentioned by the manufacturer.
The nine best CBD creams of 2023 listed in this guide have been carefully selected to provide you with high-quality options to consider.
However, as with any wellness product, it's essential to consult with a healthcare professional and perform a patch test if you have any doubts or concerns.
Remember that your responses to CBD can vary, so finding the right CBD cream for your needs may involve some trial and error. However, with the right choice, you can harness the potential benefits of CBD to improve your overall well-being.
The information in this article is intended for general use only and may not always be appropriate for everyone's needs. Your health and wellness are unique to you, so before acting on anything we say, seek personalized advice from a medical professional.
We value the accuracy and editorial integrity of all our articles, and we strive to ensure that the content we publish is accurate and up-to-date to the best of our knowledge.
This article contains affiliate links, but any opinions expressed in our content are solely those of the author and have not been provided by or endorsed by any advertisers.