In modern skincare, the fusion of science and nature has given birth to a revolutionary product: CBD face cream.
With the potential to unlock the therapeutic properties of CBD (cannabidiol), these creams are garnering immense attention for their underlying anti-inflammatory and antioxidant effects, offering a promising solution to people dealing with many skin conditions such as eczema or acne, while they also aim to enhance overall skin health.
As CBD face creams gain popularity, the market is flooded with various options, making it a challenge to find the perfect CBD face cream that suits your specific skin needs.
To make this process easier and help you navigate the world of CBD-infused skincare, we've compiled a list of the best CBD face creams in the market. We have also provided you with relevant information about CBD face creams, like how they work, their benefits, side effects, and more.
Quick links to the 5 best CBD face creams
This article contain affiliate links
CBD face cream is a topical skincare product infused with cannabidiol (CBD), which is a natural, non-psychoactive hemp-derived compound that has anti-inflammatory and antioxidant benefits.
Apart from CBD, a CBD face cream can also consist of other ingredients that play a role in hydrating, repairing, and soothing your skin, making it an ideal addition to your skincare routine.
Detailed review of the best CBD face creams
CBD For Life CBD Face Cream
CBD Type:

Broad spectrum

CBD Strength:

500 mg

Quantity:

50 ml

Key Ingredients:

Glycerin

,

hyaluronic acid, olive fruit oil, cucumber extract

COA:

Available

Customer Review:

"I have been using this CBD face cream every day for two weeks and it has improved my face significantly! Before I started using it, I had redness and rashes, but now both have become much less and in some places they have completely gone away."
Elevate your skincare game with CBD for Life face cream, a 1.7 oz. (50 ml) tub of pure delight that offers a generous 500 mg of broad-spectrum CBD.
This face cream is more than just a skincare solution; it's a testament to clean and ethical skincare. Additionally, it's free from GMOs, parabens, and artificial coloring, making it a product you can trust.
But what truly sets this CBD face cream apart is the richness of its ingredients. With the magic of CBD and the added power of hyaluronic acid, olive fruit oil, and cucumber extract, this cream becomes a moisture-boosting powerhouse.
With nearly 700 positive customer reviews on the website, this face cream has earned its place as one of the best CBD face creams in the market.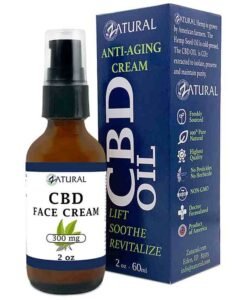 CBD Type:

Broad spectrum

CBD Strength:

300 mg, 600 mg

Quantity:

60 ml

Key Ingredients:

Vitamin E, sunflower seed oil, shea butter, carrot seed oil

COA:

Available

Customer Review:

"Excellent cream. Goes on smoothly. Does not feel sticky. Allows pores to breathe."
Unveil the secret to timeless beauty with Zatural anti-aging CBD face cream, available in two versatile variants offering 300 mg and 600 mg of CBD strength within each 60 ml bottle.
This cream is the ultimate companion in your skincare journey to rejuvenate your aging skin, as it is designed to target fine lines, wrinkles, and the visible signs of aging.
Beyond the power of CBD, this remarkable formula is enriched with a symphony of nourishing ingredients like vitamin E, shea butter, and carrot seed oil which helps deeply hydrate and revitalize your skin, combating dryness and promoting a supple, smooth appearance.
With this anti-aging CBD face cream, your daily skincare regimen becomes a celebration of self-care and rejuvenation, delivering the promise of healthier, more youthful skin.
American Shaman CBD Face Cream
CBD Type:

Full spectrum

CBD Strength:

60 mg

Quantity:

60 ml

Key Ingredients:

Sweet almond oil, mineral oil, lavender essential oil

COA:

Available

Customer Review:

"

The CBD face cream has wonderful ingredients and makes my skin feel young and soft. Has a lovely smell. Very good product and I am very satisfied with it."
Indulge in the luxury of American Shaman CBD face cream, a skincare masterpiece that comes in a generous 60 ml container, delivering a harmonious 60 mg of full-spectrum CBD.
This face cream is more than just skincare; it's a commitment to quality and purity. It's free from GMOs and crafted with organic ingredients, ensuring that you receive the most effective and highest-quality CBD face cream on the market today.
But what truly sets American Shaman apart is its dedication to skin revitalization. This cream is designed to give your skin the youthful glow it craves. CBD, enriched with sweet almond oil and mineral oil, provides the nourishment and revitalization your skin deserves.
With over 250 positive customer reviews on the website, this CBD face cream has earned its place as one of the best-selling CBD face creams in the market.
CBD Type:

Broad spectrum

CBD Strength:

100 mg

Quantity:

50 ml

Key Ingredients:

Rose flower water, ylang-ylang oil, pot marigold flower extract, coenzyme Q10

COA:

Available
Elevate your skincare game with Naturecan hydra burst CBD face cream, an extraordinary formula packed in a generous 50 ml container. This exceptional face cream delivers 100 mg of broad-spectrum CBD, ensuring your skin is in the best possible hands with a 100% vegan and GMO-free formulation.
Naturecan's dedication to superior skincare is evident in every drop of this face cream. Infused with antioxidants, it is specifically designed to target the early signs of aging.
The cream is a harmonious blend of essential oils and active extracts, featuring ingredients like ylang-ylang, calendula oil, and rose water. Together, they fight against free radicals and visibly reduce redness, creating a powerhouse against premature aging.
But the benefits don't stop there. This CBD face cream is also enriched with coenzyme Q10, a natural antioxidant that your body produces. CoQ10 acts as a protective shield for your skin, guarding it against the harmful effects of pollution, UV rays, and other environmental stressors.
CBD Type:

Full spectrum

CBD Strength:

500 mg

Quantity:

30 ml

Key Ingredients:

Glycerin, shea butter, jojoba seed oil, calendula flower oil

COA:

Available

Customer Review:

"I have been using the CBD Face Cream for about a year. It has worked great to keep my skin moisturised and clear."
Discover the secret to radiant, youthful skin with Neurogan CBD face cream, your daily dose of skincare luxury. This 30 ml container is your gateway to 500 mg of full-spectrum CBD, carefully crafted to provide your skin with the love and care it deserves.
This CBD face cream is infused with hydrating powerhouses like aloe vera, jojoba oil, and shea butter. These ingredients work harmoniously to deliver light yet effective moisture, aiding in daily skin recovery and ensuring your face maintains a healthy, youthful glow.
And there's more. Calendula flower oil is another key player in this symphony of skincare. It soothes and heals your skin, creating a soothing and rejuvenating experience every day.
How did we choose the best CBD face creams?
While selecting the best CBD face cream in the market, we evaluated many products and used a set of criteria to determine the best among them. The criteria involve:
Quality, purity, and COA:

Our first criterion was to ensure that the CBD used in these creams came from reputable sources, typically high-quality hemp farms.

We also considered products that underwent third-party lab testing with added COA (certificate of analysis) to confirm their purity and authenticity.

Ingredient analysis:

We carefully examined the ingredient lists of each face cream. Our goal was to identify CBD face creams that not only contained CBD but also included complementary ingredients known for their skin-nourishing properties.

User feedback:

Real-world experiences matter. We analyzed many customer reviews and feedback (if available) to understand how these CBD face creams performed for individuals. The user satisfaction and personal experiences provided valuable insights into the efficacy of these creams.

Price-effectiveness balance:

While quality is paramount, we also considered the price of each CBD face cream relative to its quality and effectiveness. A product's affordability is a crucial factor in the selection process, ensuring that you get the best value for your investment.
By following these criteria, we aimed to provide our readers with a selection of CBD face creams that offer the highest likelihood of delivering positive results for various skin concerns.
Read More: CBD Buyers Guide
CBD face creams are generally safe for most people when used as directed. However, as with any skincare product, there are some considerations to keep in mind.
The safety of CBD face creams primarily lies in their composition and usage.
These creams are typically formulated with additional ingredients, including CBD derived from hemp plants. So it's crucial to ensure that the CBD used in these products is sourced from reputable and well-regulated hemp farms. This helps ensure that the product contains good-quality CBD.
Additionally, make sure that you are not allergic to any additional ingredients present in a CBD face cream. A patch test on a small area of your skin is recommended, especially if you have sensitive skin, to check for any allergic reactions or irritation.
Also, remember that applying too much CBD face cream or using it too frequently will not necessarily yield better results.
So as long as you use high-quality CBD face cream in appropriate quantities, it will be safe.
How to use CBD face cream?
Using CBD face cream is a straightforward process, but to maximize its benefits and ensure a safe and satisfying experience, it's essential to follow a few key steps:
Do a patch test first:

Before you start using a CBD face cream, take a small amount of cream and put it on a small area of your skin. Observe its effects to make sure it's suitable for your skin.

Start with a clean face:

Begin by cleansing your face using a gentle cleanser or face wash. This step removes dirt, makeup, and impurities, preparing your skin to absorb the CBD face cream more effectively.

Apply a small amount:

CBD face creams are typically potent, and a little goes a long way. Start with a small amount, usually a pea-sized portion, and gently dab it onto your skin. You can focus on specific areas where you want to see improvements, such as fine lines, dry patches, or areas with redness.

Gently massage it:

Use your fingertips to massage the cream into your skin in upward, circular motions. This promotes absorption and ensures even distribution. Be gentle and avoid excessive rubbing, especially around sensitive areas like the eyes.

Be consistent:

Like any skincare product, consistency is key. Use your CBD face cream regularly, as directed, to maintain and enhance its potential benefits. Consistency can lead to noticeable improvements in skin health over time.
By following these steps and being attentive to your skin's response, you can harness the full potential of CBD for your face.
How does CBD face cream work?
A CBD face cream works by tapping into the skin's endocannabinoid system (ECS), a complex network of receptors found throughout your body, including your face. CBD interacts with these receptors and influences various processes in your skin, resulting in all kinds of benefits.
Key functions of CBD face creams include anti-inflammatory, anti-itching, analgesics, wound healing, and antiproliferative effects (1), making them effective in reducing redness, soothing irritation, and managing conditions like acne, eczema, dermatitis, and psoriasis (2).
Additionally, the antioxidant-rich nature of CBD helps protect skin cells from free radicals, supporting overall skin health and mitigating premature aging (3).
In essence, CBD face creams work by harmonizing with your skin's natural processes to offer a range of benefits, ultimately contributing to healthier and more radiant skin.
CBD face creams are an exciting addition to your skincare routine, offering potential benefits for a variety of skin concerns. However, when choosing a CBD face cream, be sure to do your research, opt for high-quality products, and consider your individual skin needs.
Our top picks for the best CBD face creams represent the pinnacle of quality and effectiveness in the market. Whether you're looking to soothe sensitive skin, combat signs of aging, or simply maintain a healthy complexion, incorporating a CBD face cream into your skincare routine could be a game-changer.
Remember that the effects of CBD can vary from person to person, and it's always a good idea to consult with a dermatologist or skin care professional for personalized recommendations.
As with any skincare product, consistency and patience are key to seeing the best results.
The information in this article is intended for general use only and may not always be appropriate for everyone's needs. Your health and wellness are unique to you, so before acting on anything we say, seek personalized advice from a medical professional.
We value the accuracy and editorial integrity of all our articles, and we strive to ensure that the content we publish is accurate and up-to-date to the best of our knowledge.
This article contains affiliate links, but any opinions expressed in our content are solely those of the author and have not been provided by or endorsed by any advertisers.