As more people explore the potential therapeutic benefits of CBD, they often encounter the challenge of finding affordable CBD options that deliver the best value for money. Nevertheless, there are some cheap CBD options available in the market that are not only affordable but also offer a quality that you only see in premium CBD products.
In this guide, we'll explore the world of affordable CBD, and we will also mention 7 of the most affordable CBD products in the market in categories like CBD oil, gummies, edibles, capsules, flowers, topicals, and drinks.
We'll also address important questions about the safety of cheap CBD products and whether they're the right choice for you.
Quick Links of the 7 best cheap CBD products
This article contain affiliate links
A detailed review of the best cheap CBD products
CBD Type:

full-spectrum, broad-spectrum

CBD Strength:

1500 mg, 3000 mg, 6000 mg, 12000 mg per bottle

Flavor:

natural, lemon raspberry, mango peach, sweet mint

Quantity:

15 ml, 30 ml, 60 ml, 120 ml

COA:

available

Customer Review: "Great CBD Tincture. Love the smooth taste. Offers more flavors than the company I currently go through. Price is a lot cheaper but same quality as what I buy now. Thanks really love this product."
Canna River's classic CBD oil is your wallet-friendly ticket to the world of CBD wellness. In a market filled with many best CBD oil options, this classic CBD oil stands out as one of the most affordable ones available in the market, making the potential benefits of CBD accessible to everyone.
This versatile product offers you a choice between full-spectrum and broad-spectrum CBD, ensuring that you can tailor your CBD experience to your specific preferences. Plus, it comes in four delicious flavors including natural, lemon raspberry, mango peach, and sweet mint, making your daily CBD routine not only beneficial but also delightful to the taste buds.
This CBD oil doesn't compromise on strength either. With four CBD strength options ranging from 1500 mg to a robust 12000 mg, you can select the strength that best suits your wellness needs. Moreover, its popularity is undeniable, backed by over 2900 positive reviews on Canna River's website, and offers a testament to its quality and customer satisfaction.
Beyond affordability and flavor, CBD Oil is also cruelty-free, gluten-free, and non-GMO, ensuring that your wellness journey is free from unnecessary additives.
CBD Type:

CBD isolate

CBD Strength:

20 mg per gummy

Quantity:

30 counts

COA:

available

Customer Review:

"

Some of the best CBD gummies I've found for anxiety. For 20mg, the price range is perfect and it's just the right amount of CBD to take the edge off when needed. I also just can't help but love that they come in true gummy bear form!"
Not Pot CBD gummies are the perfect blend of wallet-friendly wellness wrapped in a delicious strawberry flavor. These CBD gummies offer an exceptional wellness experience that won't break the bank.
These gummies prioritize simplicity and affordability, containing only pure CBD isolate with no artificial additives or dyes. The result? A tasty treat that's not only vegan but also packed with 20 mg of hemp-derived CBD isolate in each gummy.
These are also gluten-free and sustainably sourced, making them the perfect cheap CBD gummies for both budget-conscious and eco-conscious people.
Additionally, if you are seeking a cheap way to get a good night's sleep, Not Pot has you covered with their sleep variant, infused with melatonin and other natural sleep-promoting ingredients.
And it's not just about being easy on the wallet; Not Pot CBD gummies have earned the love and trust of thousands of satisfied customers, boasting over 2900 positive reviews on their website.
Lazarus Naturals CBD Capsules
CBD Type:

CBD isolate

CBD Strength:

25 mg per capsule

Quantity:

40, 200 counts

COA:

available

Customer Review:

"These are absolutely amazing! They definitely give you energy. They are perfect to help you get that boost of motivation on sad days"
Lazarus Naturals CBD capsules are one of the most affordable CBD capsules available in the market. These capsules are not just for budget-conscious buyers but also the ideal choice if you are for a morning CBD routine to energize and revitalize your day.
Crafted with your well-being and daily productivity in mind, each capsule delivers a potent 25 mg dose of CBD isolate, which sets the foundation for your successful day ahead. Additionally, what makes these cheap CBD capsules truly outstanding is their holistic blend of natural ingredients.
Apart from the power of CBD, these capsules also contain a thoughtfully chosen lineup of useful ingredients, including cordyceps mushrooms, vitamin B6, rhodiola rosea, L-theanine, vitamin B12, and caffeine. This unique fusion offers you an affordable and sustainable energy boost that is perfect for conquering your workday or achieving your goals without straining your budget.
However, what sets these affordable CBD capsules apart is their ability to offer wakefulness, alertness, and mental clarity without the jittery side effects of caffeine, which makes this a healthier and cost-effective alternative to your morning coffee.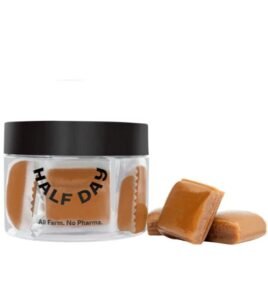 CBD Type:

full-spectrum

CBD Strength:

35 mg per caramel

Quantity:

10 counts

COA:

available

Customer Review:

"Tasty Relaxation! Tried the new caramels and they did not disappoint. A big portion with a great taste!"
When it comes to affordable CBD edibles that pack a punch, Half Day CBD hard caramels are your go-to choice. These delectable caramels not only delight your taste buds but also deliver an impressive 35 mg of full-spectrum CBD per piece; making them one of the most value-for-money CBD edibles in the market.
Plus, the effects of these caramels can last up to a remarkable 8 hours, ensuring you with a long-lasting relief without breaking your bank.
However, what makes these CBD hard caramels truly stand out is their careful craftsmanship. They are made in small batches by an in-house team of candy makers, these caramels offer a higher bioavailability than many other CBD edibles.
But affordability doesn't mean compromising on quality. Half Day prides itself on using only all-natural ingredients, ensuring that you're getting a pure and wholesome CBD edible without any unnecessary additives or artificial elements.
Plain Jane CBD Flower Buds
CBD Type:

full-spectrum

CBD Strains:

15 different types of CBD flower strains

Quantity:

28 grams

COA:

available

Customer Review:

"I've bought a lot of products from Plain Jane and this is for sure the best value like the other reviewer said! The buds are regular full size not shake or small buds. I even got one that was 3-4 inches long and had nice purple color to it! Super exciting looking through the pack because each nug is different and it's fun to try them all. Definitely recommend it. I'm going back for another one"
When it comes to cheap CBD flowers that don't compromise on quality, Plain Jane takes the lead. These CBD flowers are not just high-quality; they redefine the game by offering some of the most pocket-friendly options in the market.
Plain Jane has mastered the art of delivering the best CBD flowers without the premium price tag.
One of Plain Jane's standout offerings is its small CBD buds. These buds are a hit among CBD enthusiasts for good reason. You get a generous 1 oz or 28 grams of a diverse selection of CBD hemp flowers, all at incredibly affordable prices.
While, you have the opportunity to explore over 15 different CBD flower strains, each bringing its own unique flavors and effects to the table.
However, what truly sets these CBD flowers apart is their attention to detail. These hemp CBD flowers are compact, dense buds that are carefully packaged to ensure the preservation of cannabinoids and terpenes at their peak levels. This commitment to quality guarantees that you get the most out of every bud, even at an affordable price point.
Canna River CBD Body Balm
CBD Type:

broad-spectrum

CBD Strength:

2500 mg per bottle

Quantity:

2 oz

COA:

available

Customer Review:

"Good product

.

The balm was smooth going on, was warming and soothing. It helped my back pain and I would recommend this product. This product was not sticky or greasy at all."
If you are searching for an affordable yet effective CBD topical then look no further than Canna River CBD body balm. This budget-friendly CBD balm is your solution for effective relief that won't strain your wallet.
Canna River's CBD body balm contains a broad spectrum CBD formula and offers two distinct effects: cooling for soothing relief and warming for comforting heat. This versatile balm is perfect if you are seeking a cheap CBD topical to address a wide range of physical issues.
However, what makes this balm truly exceptional is its impressive potency, with a generous 2500 mg of CBD in each jar. You can trust that you're getting a powerful dose of CBD to ease your discomfort without breaking the bank.
Furthermore, this CBD body balm has earned its status as one of the most-loved CBD products from the brand, backed by over 300+ positive reviews from satisfied and budget-conscious customers. Plus, it's alcohol-free, paraben-free, cruelty-free, and free from any harmful chemicals, making it a clean and affordable choice for your CBD relief needs.
The Hemp Division Sparkling Elixir
CBD Type:

CBD isolate

CBD Strength:

20 mg per can

Quantity:

8 cans

COA:

available

Customer Review:

"So good. My wife and I love these drinks so much. Haven't been able to find anything as good or as cheap. Highly recommended."
When it comes to affordable CBD drinks that refresh your senses without emptying your wallet, The Hemp Division sparkling CBD drink is the answer. This budget-friendly CBD drink redefines your hydration routine, making relaxation and relief more accessible than ever.
If you are seeking a cheap CBD drink, The Hemp Division offers an irresistible deal offering 20 mg of pure CBD isolate per can, all available in an 8-can pack for under $25. It's a value that's hard to beat in the CBD drink market.
But it's not just about affordability; This sparkling CBD drink also brings deliciousness to the table. You have the choice of two delightful flavor options: the tropical fusion of orange mango or the aromatic and refreshing rosemary yuzu. These flavors are designed to tickle your taste buds and elevate your beverage experience.
These cheap CBD drinks are also THC-free, caffeine-free, and completely free from any harmful chemicals or additives. So sip with peace of mind, knowing that you're indulging in a clean and budget-friendly CBD drink.
These are best enjoyed ice-cold. You can simply pour this over ice, and savor the refreshing CBD goodness.
How did we choose the best cheap CBD products?
We evaluated many CBD brands and their products and only considered the ones that offer the best value for money. The evaluation process involves:
Research:

We start by conducting extensive research on the CBD market. This involves analyzing various brands, products, and customer reviews to identify potential candidates for our list of the best cheap CBD products.

CBD product options:

We look for products that cater to a wide range of preferences and needs, including CBD oils, gummies, flowers, and more. We compared many options and added the cheapest and most affordable ones on this list.

Price comparison:

To ensure affordability, we compare the prices of different CBD products. We consider the cost per milligram of CBD to determine which products offer the best value for the price.

Value for money:

The best affordable CBD products provide a balance between price and CBD content. We evaluate whether the product offers a reasonable amount of CBD for its price and compare it to similar products on the market.

Quality assessment:

Affordability doesn't mean compromising on quality. We assess the quality of CBD products by looking at factors such as the source of CBD (hemp quality), extraction methods, third-party lab testing, and overall manufacturing standards. We prioritize products that meet high-quality standards despite their lower price.

Customer feedback:

We take into account customer reviews and feedback from real users of these products. Positive reviews and a satisfied customer base are strong indicators of product effectiveness and quality.

Safety and purity:

Ensuring the safety of consumers is paramount. We only recommend products that are free from harmful additives, contaminants, and chemicals. Third-party lab testing is essential to verify the purity and potency of the CBD.
Read More: CBD Buyers Guide
Are cheap CBD products safe?
The safety of cheap CBD products can be a concern, but it's important to note that affordability doesn't necessarily equate to compromised safety. Several key factors determine the safety of any CBD product, regardless of its price tag.
First and foremost, you should check the source of the hemp and the CBD extraction a brand employs. Reputable brands, including those offering affordable options, prioritize high-quality, organically grown hemp to minimize the risk of harmful contaminants like pesticides and heavy metals.
Additionally, advanced extraction methods such as CO2 extraction contribute to product safety by reducing the chances of residues or any harmful byproducts.
Moreover, any reliable CBD companies, even those with budget-friendly offerings, ensure that their products undergo thorough testing for cannabinoid content, purity, and the absence of contaminants. These lab results, often available as Certificates of Analysis (COA), provide transparency and assurance for you to see and make assessments.
The safety of CBD products also hinges on ingredient quality and their compliance with legal limits, adherence to manufacturing standards, positive customer reviews, and a brand's reputation is also important.
In a nutshell, cheap CBD can be safe if you pick products from trusted brands. They make sure their CBD comes from high-quality hemp, and they also include a COA to let you know about the ingredients.
Should you buy cheap CBD products?
If you're looking to try CBD without making a substantial financial commitment, affordable CBD products can provide an accessible entry point. They enable you to explore CBD's potential benefits without putting much strain on your finances.
However, affordability should not come at the expense of quality and safety. You must research and select CBD products from reputable brands that prioritize quality, transparency, and third-party lab testing.
Even within the realm of budget-friendly options, you can find companies that maintain high standards in terms of product purity and potency.
Additionally, you should also think about your specific CBD needs. There are many different types of cheap CBD product options available in the market, so you should figure out which one caters to your needs perfectly.
Moreover, if you plan to use CBD regularly over an extended period, evaluate the cumulative cost of affordable CBD products compared to higher-priced options. While cheap CBD can offer initial savings, ensure that it remains cost-effective in the long run while still meeting your wellness needs.
There you have it, our list of the best cheap CBD products that you can shop online. Affordable CBD products can provide a gateway to exploring the potential benefits of cannabidiol without straining your budget.
By considering factors like quality, safety, and product type, you can make an informed decision when choosing the best cheap CBD products for your needs.
However, remember to consult with a healthcare professional, especially if you have underlying medical conditions or are taking other medications.
With the options listed in this article, you can embark on your CBD journey with confidence, knowing that quality and affordability can go hand in hand.
The information in this article is intended for general use only and may not always be appropriate for everyone's needs. Your health and wellness are unique to you, so before acting on anything we say, seek personalized advice from a medical professional.
We value the accuracy and editorial integrity of all our articles, and we strive to ensure that the content we publish is accurate and up-to-date to the best of our knowledge.
This article contains affiliate links, but any opinions expressed in our content are solely those of the author and have not been provided by or endorsed by any advertisers.