In recent years, the wellness industry has been buzzing with a wide range of CBD product options, in which CBD capsules have emerged as one of the best ways to experience the potential benefits of CBD.
However, with plenty of CBD capsules and softgel options flooding the market, it can be overwhelming to choose the ideal one that suits your needs.
To navigate this sea of choices and help you make informed decisions, we have curated a product guide that delves into the realm of the best CBD capsules available online.
Additionally, we aim to equip you with a comprehensive understanding of CBD capsules: how they function, their usage, the benefits they offer, and even the potential risks to be aware of.
Quick links to the 8 best CBD capsules
This article contain affiliate links
CBD capsules also known as CBD softgels are a way to ingest CBD in a pre-measured dose. They are portable and easy to take on the go, and they provide a consistent and precise way to take CBD every time.
A CBD capsule is made when a fixed dosage of hemp-derived CBD extract is encapsulated in a pill or soft gel form-like structure.
Additionally, they also come in different formulations, concentrations, and additional ingredient options which allows you to choose the ideal capsule that aligns with your preferences and needs.
CBD capsules are also the best choice for people who prefer a measured CBD dosage and don't want to deal with the taste and smell of CBD oils or the sugars of CBD edibles.
A detailed review of the best CBD capsules
Cornbread Hemp CBD Capsules
CBD Type:

full-spectrum

CBD Strength:

25 mg per capsule

Quantity:

30 counts

COA:

Available

Customer Review:

"I take the capsules with my vitamins every day. The Full Spectrum CBD capsules keep my inflammation and arthritis under control. I hardly ever have to take aspirin for my aches and pains. So grateful I found Cornbread products."
Cornbread Hemp CBD capsules are one of the best full-spectrum CBD capsules we could find on the market. Each capsule packs a potent punch, delivering 25 mg of CBD including 1 mg of THC, which is derived from high-quality hemp.
However, what truly sets these CBD capsules apart is their full-spectrum nature. They aren't just about CBD; they're enriched with an ensemble of other minor cannabinoids and terpenes that work together in your body to unlock the full potential of the entourage effect, which further maximizes its benefits.
These capsules are crafted in the USA and represent the pinnacle of American hemp expertise. Additionally, they've earned the trust of over 500 satisfied customers, boasting an impressive track record of positive reviews that speak volumes about their quality and effectiveness.
CBDistillery CBD Softgels
CBD Type:

broad-spectrum

CBD Strength:

30 mg per softgel

Quantity:

60 counts

COA:

Available

Customer Review:

"Have been using the softgels for over a year and continue to notice that I feel generally calmer plus I sleep better now at night. They are definitely worth the price!"
Uncover the pinnacle of CBD wellness with CBDistillery CBD Softgels, which is one of the best broad-spectrum softgel capsules we could find in the market.
Each of these softgels contains 30 mg of top-tier broad-spectrum CBD, which is derived from high-quality, non-GMO hemp. This CBD softgel is an ideal choice for people who are seeking the potential wellness benefits of diverse cannabinoids and terpenes without any THC or drug test concerns.
Additionally, they come in a generous 60-count bottle, which guarantees weeks of uninterrupted use, eliminating your need for frequent restocking.
These softgels are crafted with the utmost dedication to purity because they comprise 100% clean ingredients that align with nature's intent. Plus, you can rest easy knowing that each batch undergoes rigorous third-party lab testing to ensure its consistent quality and potency.
CBD Type:

CBD isolate

CBD Strength:

25 mg per capsule

Quantity:

30 counts

COA:

Available

Customer Review:

"It is definitely improving calmness and mental clarity. I have been taking one tablet each morning before eating. I am really glad to have signed up for the subscription plan so I will not run out."
If you are someone who is only interested in pure CBD only and doesn't want the uncertainty of any other cannabinoids or terpenes, then this Green Roads CBD softgels can be an ideal choice for you. This is a CBD isolate softgel from one of the top CBD companies in the market, Green Roads.
These CBD softgels come in 30-count bottles where each softgel contains 25 mg of pure CBD isolate, which is the perfect daily dose of CBD for most people. Additionally, they are taste-neutral and are easy to swallow with water, ensuring a hassle-free experience.
However, what truly sets these gluten-free CBD softgels apart is their brand's unwavering commitment to quality and precision. These softgels are meticulously formulated by an in-house pharmacist team who ensures you receive the finest CBD experience possible.
With over 500 positive reviews on the company website, Green Roads CBD softgels have won the trust and admiration of countless users who attest to their effectiveness and quality.
Nuleaf Naturals CBD Capsules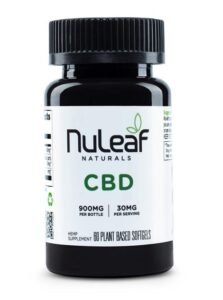 CBD Type:

full-spectrum

CBD Strength:

30 mg per capsule

Quantity:

20, 60, 120 counts

COA:

Available

Customer Review:

"My fav CBD softgels! I've tried a lot of brands and Nuleaf CBD is my fav! Effects are great and they always calm me down when I get wound up or stressed out."
Nuleaf Naturals CBD capsules are one of the top-rated CBD capsules in the market. It has over 750 five-star ratings and positive reviews from delighted customers.
Every single one of these capsules contains 30 mg of potent full-spectrum CBD, which means you get all the cannabinoids including the legal limits of THC to cause an entourage effect in your body for the maximum effects.
Moreover, these capsules are made from organic hemp, which ensures purity and natural goodness, and the company uses the best CBD extraction process, so you can expect the highest quality of CBD capsules.
Additionally, you will find that the Nuleaf Naturals 120 capsules option offers the best value for your money.
cbdMD PM Softgel Capsules
CBD Type:

broad-spectrum

CBD Strength:

40 mg CBD + 10 mg CBN per capsule

Quantity:

30 counts

COA:

Available

Customer Review:

"Nightly ritual. I love the new higher dose of PM formula. It helps me to calm my body and mind so I can get a more restful and peaceful night of sleep. I wake up calmly without that hangover feeling."
If you are looking towards CBD capsules to improve your sleep, then there is no better option than cbdMD PM softgels. These CBD melatonin capsules are specially created to help you sleep better and keep your insomnia at bay.
Each of these capsules is infused with 40 mg of broad-spectrum CBD and complementing this is 10 mg of CBN, an additional hemp-derived compound that is known for its mild psychoactive attributes that are especially useful in facilitating natural and adequate sleep.
Additionally, these softgels also contain a small amount of melatonin, which is a naturally occurring hormone present in your body that signals your body and mind to sleep.
This unique blend of natural ingredients makes cbdMD PM Softgel Capsules a perfect go-to CBD capsule for sleep.
Read more: CBD products for sleep
Joy Organics CBD Softgels
CBD Type:

broad-spectrum

CBD Strength:

25 mg per capsule

Quantity:

30 counts

COA:

Available

Customer Review:

"Love these softgels! I take these softgels daily and love the feeling of greater freedom of movement and increased energy! Joy Organics products are high quality and their customer care is wonderful."
If you are looking for a CBD capsule that can help you manage pain and inflammation in your muscles and joints, then there is no better option than this Joy Organics CBD softgels.
Each softgel is a powerhouse that delivers 25 mg of broad-spectrum CBD and 250 mg of curcumin from turmeric. Together, these ingredients combine their inflammation-relieving properties that help you provide comprehensive support to your muscles and joints.
What sets Joy Organics apart is their dedication to making sure you get the most out of each CBD softgel. They use a special process called nanoemulsion technology to enhance the absorption of CBD in your body, ensuring that you get the most out of CBD.
With 30 softgels in each bottle, you have a full month's supply in your hands. So whether you're managing age-related stiffness or striving for fitness goals, these capsules can be your natural companion.
Lazarus Naturals CBD Capsules
CBD Type:

CBD isolate

CBD Strength:

25 mg per capsule

Quantity:

40, 200 counts

COA:

Available

Customer Review:

"These are perfect. I am very sensitive to caffeine and one is enough to get me going throughout the day without feeling jittery. There is no crash at all, perfect."
If you are looking for a CBD capsule to start your day with, there is no better option than Lazarus Naturals CBD capsules for energy.
These budget-friendly morning capsules are carefully crafted to not only deliver the benefits of 25 mg of CBD isolate but also to provide you with a holistic blend of natural ingredients that will set the tone for a successful day ahead.
Each capsule combines the power of CBD with ingredients like cordyceps mushrooms, vitamin B6, rhodiola rosea, L-theanine, vitamin B12, and caffeine. This unique blend offers a balanced and sustainable energy boost, making it the perfect companion for your work days or when you're aiming to achieve new personal bests.
Moreover, these CBD capsules are also a healthier alternative to your morning coffee, as they offer wakefulness, alertness, and a level-headed approach to your day, without the ups and downs of caffeine.
CBD Type:

broad-spectrum

CBD Strength:

200 mg per capsule

Quantity:

60 counts

COA:

Available

Customer Review:

"I've tried a variety of companies and concoctions but this dose from cbdMD is my favorite. Works well, like good quality CBD should. And the ratio of mgs to $$ is the best you'll find."
If you are someone who is built bigger than most people or someone who has a high CBD tolerance and requires a high-strength CBD capsule then cbdMD's CBD softgels can be your ideal choice.
These softgel capsules are not just strong; they're among the most potent in the market, boasting an impressive 200 mg of broad-spectrum CBD in each capsule, which means they're designed to cater to even the most CBD-tolerant individuals.
Sourced from U.S. hemp, cbdMD ensures top-notch quality and consistency, and every batch undergoes rigorous third-party lab testing to guarantee what's on the label is what's inside.
Plus, these THC-free CBD capsules are fortified with CBG, CBN, Vitamin E, and more, offering a comprehensive blend of all the beneficial compounds.
However, keep in mind that due to high CBD concentration, these capsules may lead to a bitter taste, setting them apart from other CBD capsules in this list.
How did we choose these CBD capsules?
Selecting the best CBD capsules from many options we used a thorough process that combined careful research and evaluation. We didn't just randomly pick these capsules; there was a method to our selection, such as:
Sourcing and quality:

We looked at where the hemp, the plant CBD is derived from, comes from and we only considered brands that use US-grown hemp. CBD capsules made from hemp grown in good conditions tend to produce better CBD. We also considered if the manufacturer follows quality control standards.

Third-party testing:

All the reputable CBD brands have their products tested by independent labs. This ensures that what's on the label matches what's in the CBD capsule. We checked for these test results to ensure the capsules were safe and contained the stated amount of CBD.

Customer reviews and price:

Real-world experiences matter. We paid attention to what people who used these capsules had to say. Positive reviews from users are a good sign of a quality product. We also considered the price of CBD capsules and included the one that offers the most value for the price.

Effectiveness:

We considered how well these capsules seemed to work for their intended purposes. Some are better for relaxation and sleep while others may be better for pain relief. We also tried to include different types of CBD capsules according to different use cases.

Overall reputation:

The reputation of the brand matters. CBD brands that consistently produce good CBD products tend to continue doing so, so only considered brands that already have a good reputation in the market.
So, in a nutshell, we selected these CBD capsules based on where they come from, how well they're made, what customers say, and how effective they seem to be. Our goal was to provide you with a well-rounded list of top-quality options available online.
Read More: CBD Buyers Guide
Things to keep in mind when taking CBD capsules:
Taking CBD capsules is a straightforward process but for the best experience there are a few things you should keep in mind:
Swallow it with water:

Simply take the CBD capsule and swallow it with a glass of water, just like you would with any other pill or supplement. You can either take it in the morning or evening depending on your use case.

Precise Dosage:

The advantage of capsules is that the CBD is already measured out for you. So, you don't need to worry about measuring the right amount, which can be a bit tricky with other forms of CBD products like oils.

Timing:

You can take CBD capsules with or without food, depending on your preference. Some people find that taking them with food can help reduce the chance of an upset stomach.

Patience:

Keep in mind that initially, CBD capsules may take some time to work, typically between 30 minutes to a few hours after swallowing. It's essential to be patient and not take more than the recommended dose if you don't feel immediate effects.

Consistency:

To get the most benefit from CBD capsules, it's often recommended to take them at the same time each day for at least a month before expecting any true results. CBD takes time to build up in your system, which can be important for certain desired effects.
In essence, taking CBD capsules is as simple as taking any other type of pill. The key is to follow the recommended dosage instructions provided by the manufacturer or your healthcare provider and to give it some time to work its magic in your body.
How do CBD capsules work?
CBD capsules operate by undergoing a step-by-step process within your body. When you swallow a CBD capsule, it enters your digestive system. As it's digested, the CBD content is absorbed through the walls of your intestines into your bloodstream.
Once in your bloodstream, CBD starts its work by interacting with the endocannabinoid system (ECS), a complex network of receptors and chemicals found throughout your body.
Your ECS plays a crucial role in regulating various bodily functions, including mood, sleep, pain sensation, and more. CBD doesn't target a specific area but rather interacts with the ECS, potentially influencing these functions.
The effects of CBD can vary widely from person to person, as it depends on various individual factors and the reasons for taking it. While some may experience relaxation, others may find pain relief, improved sleep, or reduced anxiety.
What to expect when taking CBD capsules?
What you can anticipate when taking CBD capsules is a unique and individualized experience. These capsules are often chosen for their potential to provide benefits like relaxation, stress relief, pain relief, improved sleep, reduced anxiety, and more. However, the outcome varies from person to person.
Your body's response to CBD depends on a combination of factors, including your unique physiology, the dosage you take, and the quality of the CBD capsules. Some individuals may notice its effects relatively quickly, while for others, it might take a bit more time to perceive any changes.
The dosage of CBD capsules is a critical factor; starting with a lower dose (20 to 30 mg) and gradually increasing it allows you to find the right balance for your needs. Consistency is also key, as taking CBD capsules at the same time daily helps maintain a steady level of CBD in your system, potentially leading to more consistent effects.
Importantly, CBD is non-psychoactive, meaning it won't cause a 'high' or impairment like THC, another compound found in cannabis. If you're using CBD for specific health concerns, consulting a healthcare professional is a wise step, as they can offer personalized advice on dosage and usage tailored to your unique requirements.
In summary, expect a personalized experience when taking CBD capsules, and be patient and consistent for at least 30 days as you explore the potential benefits of CBD.
What are the risks of CBD capsules?
CBD capsules are generally considered safe, but there are some potential risks and side effects that you need to be aware of, like:
Dry mouth:

One of the most common side effects of CBD is dry mouth. It can make you feel thirsty, so staying well-hydrated is important when using CBD capsules.

Digestive issues:

Some people may experience digestive problems like diarrhea or changes in appetite. If you notice these effects, you may want to adjust your dosage.

Interaction with medications:

CBD can interact with certain medications. It's crucial to consult a healthcare provider if you're taking other medications, especially those that come with a "grapefruit warning," as CBD can have a similar effect on drug metabolism.

Fatigue:

While CBD is often used for relaxation, some individuals might feel more tired or fatigued after taking it. If this happens, you might want to take CBD at a time when being tired is not a concern.

Potential for Liver Effects: High doses of CBD have been associated with liver issues in some studies. It's important to use CBD in moderation and consult a healthcare provider, especially if you have liver problems.
Quality concerns:

Ensuring that you purchase high-quality CBD capsules from reputable brands is essential. Low-quality products may contain impurities or inaccurate CBD concentrations.

Legal status:

The legality of CBD capsules can vary depending on your location. Although hemp-derived CBD is federally legal in the US.
Remember, the risks associated with CBD capsules are generally non-existent for most people. However, it's always wise to consult a healthcare provider before taking it, especially if you have underlying health conditions or are taking medications.
Can you take CBD capsules every day?
Taking CBD capsules every day is a common practice and is generally regarded as safe. In fact, it's recommended that you take CBD every day for the best results.
CBD is lipophilic, meaning it is fat-soluble and takes time to build up in your system to give you the most out of it. However, it's recommended that you begin with a lower dosage and gradually increase it if needed.
The right dosage can vary from person to person, so finding the appropriate balance is key. Consistency is also crucial, so taking CBD capsules at the same time each day can help maintain a steady level of CBD in your system, potentially leading to more predictable effects.
What time of day is best to take CBD capsules?
There is no perfect time to take CBD capsules, it all depends on your use case, your individual preferences, and your reasons for taking CBD. Here are some general considerations:
At morning: Many people prefer taking CBD capsules in the morning because it can potentially help with focus and provide a sense of balance and energy for the day ahead. If you're using CBD for general well-being or to manage daily stress, then morning might be a suitable time for you.
At night: If you are looking to use CBD to promote better sleep or manage nighttime discomfort, taking capsules in the evening or before bedtime could be more effective for you.
Throughout the day: Some individuals also prefer splitting their daily CBD dosage into smaller portions and taking them at various times throughout the day. This can help maintain a consistent level of CBD in your system that will help you maintain a consistent level of wellness.
Just like any other consumable product, CBD capsules have a shelf life. The expiration date is usually printed on the packaging. Over time, the compounds in the CBD capsules can degrade, potentially reducing their effectiveness.
Proper storage is essential to maximize the shelf life of CBD capsules. Store them in a cool, dark place away from direct sunlight and extreme temperatures. This helps slow down the degradation process and ensures that the capsules maintain their potency until the expiration date.
It's generally best to use CBD capsules within their stated shelf life for the best results and if you have capsules that are past their expiration date, it's a good idea to dispose of them responsibly and purchase a fresh batch for optimal effectiveness.
There you have it, our recommendation for the best CBD capsules and all the related information about it.
Nevertheless, it's important that you approach CBD with both enthusiasm and caution. While CBD capsules offer exciting possibilities for enhancing your well-being, individual responses can vary.
What works wonders for one person may yield different results for another, so consulting a healthcare professional is always a wise step, particularly if you have underlying health conditions or are taking other medications.
Remember, CBD capsules typically do not provide immediate effects, and patience is key. Finding the right dosage and maintaining consistency in your routine can lead to the most rewarding experience.
As you embark on your journey with CBD capsules, keep an eye on your body's response, and be open to adjustments as needed.
The information in this article is intended for general use only and may not always be appropriate for everyone's needs. Your health and wellness are unique to you, so before acting on anything we say, seek personalized advice from a medical professional.
We value the accuracy and editorial integrity of all our articles, and we strive to ensure that the content we publish is accurate and up-to-date to the best of our knowledge.
This article contains affiliate links, but any opinions expressed in our content are solely those of the author and have not been provided by or endorsed by any advertisers.