In today's fast-paced world, many people are struggling with sleep issues, which is the leading cause of a wide range of problems. Fortunately, CBD (cannabidiol) is a natural remedy that has been effective in promoting a healthy sleep cycle without the use of melatonin.
CBD has a lot of potential as a natural sleeping aid as it also helps manages stress and anxiety. Moreover, many CBD brands have recognized its potential as a natural sleep aid and developed products specifically for this purpose.
However, they also found that CBD with melatonin also works wonders for managing sleep and insomnia.
But there is one issue with melatonin. It's not safe for long-term use. According to the Mayo Clinic, melatonin is only safe for short-term use and it can have side effects if used for a long time. Unlike CBD.
That's why we have come up with a list of the 4 best (melatonin-free) CBD products for you to try that are safe for long-term use and actually work for promoting sleep.
Quick overview of the 4 best CBD products for sleep
This article contain affiliate links.
How did we choose the best CBD products for sleep?
While looking for the CBD products, we vetted many CBD brands and only considered the ones that met our criteria of quality, purity, and transparency, which include:
Availability of the COA (certificate of analysis) or lab tests from a reputed third party.

A product must be farm-bill compliant and contain less than 0.3% of THC.

We checked whether the

CBD products for sleep are free from melatonin

, pesticides, GMOs, metal solvents, and other harmful chemicals.

We considered the company's brand image, source of hemp, CBD extraction process, manufacturing process, and product prices.

We read the c

ustomer reviews of each CBD product to know whether the product actually helped people with sleep or not.

We also checked whether a company has an adequate shipping process and a customer support team to handle any order-related issues.
Read More: CBD Buyers Guide
Under $30 = $

Between $30 to $70 = $$

Over 70$ = $$$
Detailed review of the best CBD products for sleep
CBDistillery Sleep Synergy Gummies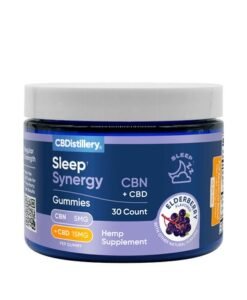 CBD Type:

Full Spectrum CBD

CBD Strength: 15

mg CBD + 5 mg of CBN per gummy

Quantity:

30 count

Flavor:

Elderberry

Price:

$$

COA:

Available

Customer Review:

"I like this product I've begun taking the Sleep Synergy Gummies about an hour before bedtime and I find that it's very relaxing. I've been sleeping much better."
CBDistillery Sleep Synergy Gummies is one of our favorite CBD gummies without melatonin that is specially formulated to help you get the quality sleep you need.
In addition to CBD, the sleep gummies contain many other cannabinoids like CBN (which is a great for promoting sleep), THC (less than 0.3%), flavonoids, and terpenes that work in synergy within your body to create an entourage effect that enhances the effects of CBD further help manage all kinds of issue and promote natural sleep.
Moreover, it also comes in a delicious elderberry flavor option making it a perfectly portable, on-the-go CBD gummy for sleep.
According to the reviews, the users reported that CBDistillery sleep synergy gummies helped them:
Getting to sleep and staying asleep with no morning grogginess.
Lazarus Naturals Sleep Capsules
CBD Type:

Full Spectrum CBD

CBD Strength:

30mg CBD + 10mg of CBN + 10mg of CBG per capsule

Quantity:

10, 40, & 200 count

Price:

$ – $$$

COA:

Available

Customer Review:

"These have helped me sleep though the night without waking up much. If i do wake up I find I can go back to sleep easier than I used to. My wife also tried them with the same results. Very happy!"
Lazarus Naturals Sleep Capsules is another full-spectrum CBD product on our list that does not contain melatonin, instead, it contains a wide range of cannabinoids (CBN, CBG) and other ingredients like lemon balm and passion flower. Together, they reduce restlessness and help in promoting healthy sleeping habits.
Additionally, each of these potent sleep capsules has 50 mg of cannabinoids, which are divided into 30 mg of CBD, 10 mg of CBG, and 10 mg of CBN, so a single CBD capsule is enough for most people to induce sleep.
According to the reviews, the users reported that Lazarus Naturals sleep capsules helped them sleep a lot better.
Cannaflower's CBD Hemp Flowers Collection
Cannaflower's rest and mindfulness collection contain a set of three 3.5 grams of naturally grown hemp flowers including OG Kush, Abacus, and Hawaiian Haze, each with a unique profile of cannabinoids and terpenes, offering distinct therapeutic properties.
Additionally, each CBD flower is specially curated to keep you relaxed and help you doze the night off. Once consumed, these flowers work quickly to calm your active mind and stress, which can be highly sleep-inducing.
According to the reviews, the users reported that Cannaflower's Rest and Mindfulness Collection helped them:
Calm down, get relaxed, and Sleep better.
CBD Type:

CBD Isolate

CBD Strength:

300mg CBD per soak

Price:

$

COA: Available
Customer Review:

"I'm addicted. Nightly baths to unwind and relax are my thing, and this little treat just makes it soooooo much better. The relaxing smell of lavender and the warm water are perfect to help soothe aches and get ready for bed."
Notpot's CBD Sleep Soak is a unique CBD product that is made with a combination of CBD, lavender essential oil, epsom salt, and dead sea salt that is uniquely designed to help you relax and take your stress away.
You can treat yourself to a CBD soak bath after a stressful day at work or the gym, your body will definitely appreciate it and you will sleep a lot better.
According to the reviews, the users reported that Notpot's CBD Sleep Soak helped them:
Get relaxed, ease pain, and sleep better.
Does CBD without melatonin work for sleep?
CBD does work without melatonin for managing all kinds of sleeping troubles (source), while it also helps with many other issues that are preventing you from sleeping like racing thoughts, pain, stress, and anxiety.
CBD works by interacting with your body's endocannabinoid system, especially the CB receptors that are present throughout your body. These CB receptors, primarily CB1 and CB2 are responsible for regulating and stabilizing various functions in your body, including:
Mood

Stress

Appetite

Pain sensation

Memory

Sleep

Fertility and reproduction
While CBD works for all these issues but with a little melatonin, the effects get a nudge towards sleep more than other functions in your body. However, without melatonin, CBD alone is not as effective for sleep alone.
So, a CBD product for sleep needs something extra to replace the work of melatonin, which it did with CBN.
CBN, short for "cannabinol" is another cannabinoid like CBD that has been shown to have mild sedative properties that could relieve conditions like insomnia and other sleeping problems.
CBN still needs to be researched, but it's a far safer, more effective, and better choice for sleep, especially for long-term use.
Most CBD products you see on the list, have CBN instead of melatonin to be effective against sleeping problems, and it really works.
CBD and other natural cannabinoids are generally considered safe for sleep when used appropriately and in moderation. Moreover, with CBD there is no risk of developing tolerance or dependency (source), which is another brownie point.
However, CBD is still a new kid on the block and needs to be thoroughly researched to say anything. While its also important to note that CBD products are not regulated by the FDA, which means that there is no guarantee that all available CBD products are safe or effective.
So, it's crucial that you research and choose a reputable CBD brand that also does third-party lab testing of their products to ensure their quality and purity.
Moreover, CBD can also interact with certain medications, so it's essential that you consult with a healthcare professional before using CBD as a sleep aid, especially if you are taking other medications.
When to take CBD products for sleep?
The best time to take CBD for sleep depends on the CBD product you are using.
If you are using CBD oil or tincture for sleep in sublingual form, then the best time to take it is around 20 to 30 minutes before going to bed.

If you are using CBD edibles for sleep, like CBD gummies or CBD capsules, then the best time to take them is around 1 to 2 hours before going to bed.

CBD flowers and pre-rolls act immediately, so if you are smoking them for sleep, you may be able to go to bed just after 5 minutes of using them, the same goes for CBD tea.
Your metabolism also plays a huge role in how quickly CBD is going to digest in your body. However, 30 minutes to an hour is a sweet spot for most CBD products to work for sleep.
Can you take CBD every day for sleep?
It is actually recommended that you take CBD everyday for the best results. CBD is "lipophilic", meaning, it forms in your body fat with time and builds up in your system to give you the best results. You will most likely see the proper effects of CBD after a few weeks of consistent use.
It's also worth noting that, CBD has no potential for abuse or dependency, and it has a much safer profile compared to other sleep supplements on the market.
How much CBD should you take for sleep?
All CBD products come with their own dosage guidelines, and they work for most people.
However, CBD interacts differently with everyone, and there is no fixed dosage that works similarly for everyone, so if you are using CBD for sleep, then stick to the product's minimal recommended dosage guidelines, and if you don't feel the effects, then gradually increase the dosage within the span of weeks, till you reach the desired outcome.
Self-titration is the key to finding the perfect CBD dosage for sleep.
Read more about CBD dosage.
CBD might be the perfect gift of nature that we have been able to utilize in recent years.
CBD not only works for sleep but also controls other sleep-wrecking conditions like stress, anxiety, racing thoughts, chronic pain, and many others making CBD a perfect solution for all insomnia and sleep-related problems.
However, CBD is not regulated by the FDA, so exercise caution when shopping for CBD products and only shop from top CBD brands that have a good reputation, and don't forget to check the COA.
What are the types of CBD?
There are three types of CBD:
Full Spectrum CBD

contains whole plant extract including a wide range of Cannabinoids (CBG, CBN, CBD, and up to 0.3% of THC), terpenes, and flavonoids.

Broad Spectrum CBD

contains a wide range of cannabidiol and terpenes except for THC.

CBD Isolate

contains pure CBD only.
CBD does not have the ability to make you high, no matter the amount you take. High is only caused by the cannabinoid "delta-9 THC" since certain full spectrum CBD can contain only up to 0.3% of THC, legally which is too small to lead to any psychoactive effects.
Can CBD show up in a drug test?
Certain full-spectrum CBD products contain a small amount of THC, so they may test positive in a cannabis drug test screening. However, CBD isolates and broad-spectrum CBD are THC-free so they can not be detected in a drug test.
The information in this article is intended for general use only and may not always be appropriate for everyone's needs. Your health and wellness are unique to you, so before acting on anything we say, seek personalized advice from a medical professional.
We value the accuracy and editorial integrity of all our articles, and we strive to ensure that the content we publish is accurate and up-to-date to the best of our knowledge.
This article contains affiliate links, but any opinions expressed in our content are solely those of the author and have not been provided by or endorsed by any advertisers.