According to the Sleep Foundation, one-third of all US adults get less than seven hours of sleep per night, and almost half of them report feeling sleepy during the day between three and seven days per week.
Lack of sleep is a widespread problem affecting millions of adults globally, with many resorting to prescription sleep medicines that come with side effects and risks of habit-forming. However, CBD (cannabidiol) has emerged as a natural, non-psychoactive alternative that promotes a good night's sleep without harmful side effects.
CBD is a therapeutic compound extracted from hemp plants that have gained immense popularity since its legalization in the US in 2018. It's estimated that the CBD market has become a billion-dollar industry, and many people every day are turning to CBD products to improve their sleep quality and overall well-being.
In this article, we've compiled a list of the best CBD products for sleep and insomnia that you can shop online in 2023.
Quick links to the 4 best CBD products for sleep and insomnia
This article contains affiliate links.
How did we choose the best CBD products for sleep?
CBD is currently not regulated by the FDA (food and drug administration), so to ensure that you only get the best CBD products for sleep, we have conducted a thorough vetting process on each CBD company and their products, including verifying their authenticity and quality, such as:
An up-to-date certificate of analysis or lab tests of each CBD product from an independent lab is a must.

A CBD product should be Farm Bill compliant and it should contain less than 0.3% of delta-9 THC.

CBD products must be made from US-produced hemp.

Free from Harmful substances, like pesticides, GMOs, metal solvents, and more.

We also checked customer reviews of each product to know whether the product actually helped people with sleep or not.

We checked the manufacturing process of the products and the brand image of the company.

We checked, what other ingredients a CBD product actually contains to promote sleep, i.e. CBN or/and melatonin.
Under $30 = $

Between $30 to $60 = $

Over 60$ = $$
Weedime's pick for the four best CBD products for sleep
Green Roads Sweet Sleep CBD Oil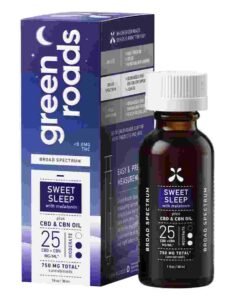 CBD Type:

Broad Spectrum

CBD Strength:

750mg of CBD per Bottle

Price:

$$

Quantity: 30 ml
COA:

Available

Customer Review:

"

I love this product. It's substantial, taste greats, and gives me an amazing nights sleep.

"
Green Roads is one of the top CBD brands in the United States, renowned for its high-quality products, including the Sweet Sleep CBD oil, which is carefully crafted by an expert team of in-house pharmacists, making it a reliable option for those seeking a natural sleep aid.
This oil comes in a 30ml bottle size which contains 22.5ml of CBD and 2.5ml of CBN per serving, which is a potent blend of natural ingredients to promote restful sleep. Additionally, it includes 2.5mg of melatonin, which can give an extra push toward a peaceful slumber.
One of the things we love about Green Roads CBD oil is its commitment to being vegan and gluten-free, making it accessible to a wide range of individuals with different dietary needs.
Moreover, with over 200 positive reviews on its website attesting to its effectiveness in promoting sleep, you can trust that this product is worth considering.
Not Pot's CBD Gummies for Sleep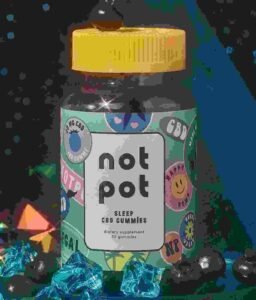 CBD Type:

CBD Isolate

CBD Strength:

600mg per bottle

Quantity:

30 count
Price:

$

COA:

Available

Customer Review:

"

The best gummies for sleep! Taste great and help put me to sleep and stay asleep!!

"
Not Pot is a CBD company that places a strong emphasis on providing superior quality, all-natural, and vegan CBD gummies that are crafted in the US.
One of their most innovative products is CBD sleep gummies, which contain 20mg of CBD and 3mg of melatonin per gummy, making this a perfect choice for managing everyday stress, anxiety, and sleep-related issues. Notably, they are also affordable, making them accessible to a wide range of consumers.
Not Pot's sleep gummies are free from artificial flavors, sugars, and other questionable ingredients, ensuring that you only consume what's necessary for a good night's rest. Moreover, with over 2500 positive reviews from satisfied customers, it's evident that this product is effective in promoting better sleep.
Lazarus Naturals Sleep Capsules
CBD Type: Full Spectrum CBD
CBD Strength: 30mg CBD + 10mg of CBN + 10mg of CBG per capsule
Quantity: 10, 40, & 200 count
Price: $ – $$$
COA: Available
Customer Review: "These have worked very well for me. I am very happy to have found them. I take 1-2 an hour before I go to bed. I do sleep much better ."
Lazarus Naturals Sleep Capsules are potent full-spectrum CBD capsules designed to promote better sleep. Unlike other CBD sleep products, these capsules do not contain melatonin. Instead, they utilize a wide range of sleep-promoting cannabinoids, including CBN and CBG, as well as natural ingredients like lemon balm and passion flower to reduce restlessness and promote healthy sleep habits.
Each Lazarus Naturals Sleep Capsule contains 50mg of cannabinoids, with 30mg of CBD, 10mg of CBG, and 10mg of CBN. This powerful combination is more than enough to induce sleep for most individuals, making it an effective and convenient sleep aid.
CBD Type:

CBD Isolate

CBD Strength:

300mg

Price:

$

COA: Available
Customer Review:

"

The BEST. I am a bath lover, and Not Pot's CBD Bath Soak will help you relax and get ready for bed. I struggle with insomnia, and this definitely helps me. Highly recommend!"
Not Pot's CBD Sleep Soak is the perfect product to help you relax and get a better night's sleep. This unique blend of multiple types of salts and CBD is designed to relieve stress and promote relaxation. With a sleep-inducing combination of lavender essential oil, Epsom salt, dead sea salt, and CBD, this soak is perfect for soaking away anxiety and preparing your mind and body for deep, restful sleep.
Each soak contains 300mg of sustainably sourced, hemp-derived CBD that's grown in the USA and lab-tested for quality assurance. The CBD is gently extracted to ensure that it retains all of its beneficial properties, making this soak a potent and effective sleep aid.
How can CBD help with sleep?
There are so many reasons that cause a sleepless night. Some experience chronic pain and inflammation that's keeping them up, for some it's racing thoughts or anxiety, while some seriously suffer from insomnia.
We know that taking CBD helps with anxiety and it can also provide relief in inflammation and chronic pain.
CBD works by healing the chemical imbalances or injuries that are disrupting your sleep and rather than acting as a bandage for the issue CBD can reduce symptoms that can cause you to stay awake at night, including pain, anxiety, nausea, and more.
According to a 2019 study conducted on the use of CBD in adults, it is found that 66% of the participants reported improved sleep patterns within the first month of use.
When to take CBD for sleep?
For the best results, it is recommended to take any CBD product for sleep 30 minutes to an hour before bedtime. This allows enough time for the body to metabolize the CBD and for its effects to kick in, promoting a night of restful sleep.
It's important to note that CBD oils tend to work faster than CBD gummies and capsules for sleep. For CBD oil, it's recommended to take it around 20 to 30 minutes before sleep, while gummies can take up to an hour to work. Alternatively, CBD prerolls and vapes provide immediate effects for sleep, making them a great option for those who need quick relief.
How much CBD should you take for sleep?
When it comes to using CBD for sleep, there is no one-size-fits-all dosage that works for everyone. Most CBD products come with dosage guidelines that work for many people, but if you don't experience any effects at the recommended dose, you can gradually increase your intake over a few weeks until you achieve your desired outcome.
For beginners, it's recommended to start with a CBD product where a single dose is 15 mg or less. Stay on this dose for a few weeks and if you still experience sleep issues, you can increase the dose or try a different product.
It's important to self-titrate and find the right dosage for you, but be sure to stick to the recommended dosage guidelines for your CBD product for the first 2 weeks before increasing the dose. This will help you avoid any potential side effects and ensure that you are using the product safely and effectively.
Read More: CBD Dosage Guide
Is it safe to take CBD every day for sleep?
CBD is lipophilic, meaning it constitutes in your body fats with time and builds up in your system to give you the best results. If you are using CBD every day, you will likely see the best results after a few days of consistent use.
CBD effects generally last for 8 to 12 hours and if you are taking CBD for sleep, then you want to sleep better every day, Right?
CBD has no potential for abuse or dependency and it does not cause any psychoactive effects, and you can't overdose on CBD, so there is no issue in taking CBD every day.
Mistakes to avoid while using CBD for sleep
Avoid eating CBD chocolates or other ingestible that contain caffeine. Also, avoid using CBD oil in caffeinated beverages, especially to manage sleep.

Avoid taking a CBD product right before bed, because take it at least 30 minutes for CBD to work for sleep, so time your intake accordingly.

Avoid using CBD in high dosages or very low dosages. Everybody's metabolism is different so finding the dosage that is right for you is the key to winning the CBD game.

For best results, make sure that the CBD product you purchase contains sleep-inducing agents like CBN or/and melatonin.

Avoid using CBD or consult your healthcare provider if you are using prescribed medication. While CBD is a safe compound, there are some

side effects

like dry mouth, drowsiness, and changes in appetite, which mostly happen when you take it with certain prescribed medications.
In conclusion, CBD can offer a natural and effective way to promote better sleep and reduce symptoms of insomnia. Additionally, it has also been shown to improve sleep by relieving underlying conditions such as anxiety and pain that may be the leading cause of sleepiness in many people.
Moreover, when combined with other cannabinoids like CBN and melatonin, CBD becomes an even more effective solution for various sleep-related issues and insomnia. So with the right product and dosage, CBD may be one of the safest and most effective ways to improve your sleep quality and promote overall wellness.
Frequently Asked Questions
What are the types of CBD?
There are three types of CBD:
Full Spectrum CBD contains whole plant extract including a wide range of cannabinoids (CBG, CBN, CBD, and up to 0.3% of THC), terpenes, and flavonoids.
Broad Spectrum CBD contains a wide range of cannabidiol and terpenes except for THC.
CBD Isolate contains pure CBD only.
CBD cannot make you high, No matter the amount you take. High is only caused by the Cannabinoid "THC". However, legally certain Full Spectrum CBD products can contain up to 0.3% of THC, which is too small to lead to any psychoactive effects.
Can CBD show up in a drug test?
Full Spectrum CBD products contain a small amount of THC, so they may test positive in a Cannabis drug test screening. However, CBD isolates and Broad Spectrum CBD are free from THC, so they can not come up in any kind of drug test.
Can you get addicted to CBD?
CBD does not have the potential to be addictive nor does it cause dependency. CBD actually develops reverse-tolerance, meaning you may require a much loser dosage of CBD after a certain period of time to manage the same issue.
The information in this article is intended for general use only and may not always be appropriate for everyone's needs. Your health and wellness are unique to you, so before acting on anything we say, seek personalized advice from a medical professional.
We value the accuracy and editorial integrity of all our articles, and we strive to ensure that the content we publish is accurate and up-to-date to the best of our knowledge.
This article contains affiliate links, but any opinions expressed in our content are solely those of the author and have not been provided by or endorsed by any advertisers.