As the popularity of hemp-derived CBD products continues to soar, the market is flooded with innovative ways to consume this wellness compound. Among the latest trends are CBD drinks or CBD-infused beverages.
CBD drinks are refreshingly convenient options that offer a tasty way to hydrate and incorporate the potential benefits of CBD into your daily routine.
In this article, we'll explore the world of the best CBD drinks available in 2023, providing detailed reviews while also addressing their safety, effectiveness, benefits, potential side effects, and more.
Quick Links to the best CBD drinks
This article contain affiliate links
CBD drinks are beverages that are infused with cannabidiol (CBD), a natural compound found in the hemp plants. CBD is renowned for its potential to deliver various health and wellness benefits without causing the "high" associated with THC.
CBD drinks come in various forms, including water, sparkling water, shots, powder mix, tea, and more, making it easy for consumers to incorporate CBD into their different ways.
Additionally, CBD drinks also offer a great and safer alternative to alcoholic beverages.
Detailed review of the best CBD drinks
CBD Type:

CBD isolate

CBD Strength:

20 mg per mix

Quantity:

7 grams per mix

Flavors:

morning lemon tea, honey citrus tea, unflavored, coconut

COA:

available

Customer Review:

"I absolutely love this product. What's so great about this product is it gives you the energy to start the day and also calms your mind at the same time. It worked for me from Day 1 and I was totally blown away. Now I never leave home without it!"
Zolt CBD drink mix is a revolutionary powder-based CBD drink that redefines your beverage experience. With 20 mg of CBD isolate in every pouch, this drink mix is designed to keep you calm, focused, and energized throughout the day.
Zolt offers a range of delightful flavors to cater to every palate and preference. The "morning lemon tea" is a refreshing blend of green tea, lemon, and stevia, offering a zesty and invigorating start to your day. If you prefer a touch of sweetness, the "honey citrus tea" combines the goodness of lemon and honey with the richness of black tea.
If you're a fan of the tropics, the "coconut" variant will transport you to a sunny beach with its natural coconut flavor and organic cane sugar, however, if prefer an unadulterated experience, there's also an unflavored variant, allowing you to enjoy the pure essence of CBD-infused drink.
What sets Zolt apart is its commitment to creating a healthier alternative to traditional caffeine and sugar-based beverages. This plant-based drink is carefully crafted with organic ingredients, making it a superior choice for those who value their well-being.
Cycling Frog THC+CBD Seltzer
CBD Type:

Full-spectrum

CBD + THC Strength:

10 mg CBD + 5 mg THC or 4 mg CBD + 2 mg THC

Quantities:

6 cans

Flavors:

wild cherry, ruby grapefruit, black currant, passionfruit, lemon, guava passionfruit

COA:

available

Customer Review:

"The Best! Already placing my 4th order! They are perfect for just unwinding after a long day or maybe even just chillaxin! All you need is 1… and I can also join in on the FUN without the alcohol which is Awesome! Thank You Cycling Frog!"
Cycling Frog THC+CBD seltzer is the ultimate CBD beverage for those seeking a delightful and health-conscious alternative to alcohol. This full-spectrum CBD drink is designed to help you unwind, share laughter, and above all have fun without the hangover or guilt.
Each can of this refreshing seltzer contains a potent blend of 5 mg of THC and 10 mg of CBD, making it the perfect choice for a mellow and enjoyable experience. With only 50 calories per can.
Additionally, there's a lighter option with 2 mg of THC, 4 mg of CBD, and a mere 20 calories per can, providing a guilt-free indulgence.
These CBD drinks come in an array of delectable flavors, ensuring there's something for every palate. Additionally, they are crafted with care, made with all-natural fruit, and contain no artificial flavors or coloring.
Plus, they are gluten-free, ensuring they can be enjoyed by a wide range of individuals.
With a six-can pack of these seltzers, you can share the joy with friends and family while experiencing relaxed and euphoric moments.
Shimmerwood Beverages CBD Seltzer
CBD Type:

Full-spectrum

CBD Strength:

5 mg per can

Quantities:

8, 12 and 24 packs

Flavors:

razz lime, ginger orange, just hemp, chai cherry

COA:

available

Customer Review:

"I have tried many order brands but this one is the best I have used to date. Helps me sleep. Very relaxing as a substitute for alcohol. Great flavor!"
Shimmerwood Beverages CBD seltzer is a perfect CBD drink for people who are new to cannabinoids. With 5 mg of full-spectrum CBD in every can, these shimmering seltzers are designed to elevate your beverage experience while also providing the potential benefits of CBD.
Moreover, these CBD seltzer comes in an array of delightful flavors, each catering to a different taste sensation.
Razz lime:

A classic with a kick, this flavor is a delightful fusion of sweet, tart, and tangy notes that will tantalize your taste buds.

Ginger orange:

The tangy cousin of ginger ale, this seltzer offers a bright, mellow, and slightly spicy profile that's perfect for those seeking a unique and zesty taste.

Just hemp:

For those who crave the pure essence of refreshment and relaxation, this flavor is clean, fresh, and crisp, offering a simple and invigorating seltzer experience.

Chai cherry:

The most eclectic Shimmerwood flavor yet, this seltzer combines warm, woodsy, and bitter notes with the sweet essence of cherry for a complex and captivating taste.
Choose the size that suits your lifestyle, as these come with 8, 12, and 24-pack options. Whether you're sharing with friends or stocking up for personal enjoyment, these seltzers offer convenience and variety.
To cater to a wide range of dietary preferences and restrictions, these shimmering beverages are sugar-free, gluten-free, and free from GMOs. They are also vegan, making them suitable for those following plant-based lifestyles.
The Hemp Division Sparkling Elixir
CBD Type:

CBD isolate

CBD Strength:

20 mg per can

Quantities:

8 cans

Flavors:

tangy lime, yuzu w/ rosemary, orange mango

COA:

available

Customer Review:

"Enjoying an ice-cold CBD drink is exactly what I need at the end of a long work day. The taste is light and refreshing. I feel very mellow after drinking it."
The Hemp Division sparkling CBD drink is an exceptional and budget-friendly choice in the world of CBD beverages. If you're in pursuit of an economical way to embrace the benefits of CBD, your search ends here.
Each can of this wallet-friendly CBD drink contains a generous 20 mg of pure CBD isolate, delivering the therapeutic potential with every sip.
This CBD drink presents an array of three flavor options to delight your taste buds. However, what sets this CBD drink apart is its unwavering commitment to purity. It's entirely free from THC, meaning you can enjoy it without any concerns about psychoactive effects.
Additionally, it's caffeine-free, making it an ideal choice for those who prefer to avoid caffeine. Furthermore, it's formulated to be free from harmful chemicals and additives, ensuring you have a natural and clean beverage you can trust.
These sparkling CBD drinks are best enjoyed ice-cold, poured over a glass of refreshing ice and you are chill for the day.
CBD Type:

Broad spectrum

CBD Strength:

25 mg per can

Quantities:

4, 12 cans

Flavors:

raspberry, blackberry, blueberry pomegranate, blood orange, lemon, grapefruit

COA:

available

Customer Review:

"The drinks are delicious. I never used to be a fan of sparkling water but I thought I'd give these a try. The flavor is great and the fruit taste is so apparent it gives a hint of sweetness but without the sugar."
WYLD CBD sparkling water is a CBD-infused flavored sparkling water that offers 25 mg of broad-spectrum CBD in every 355 ml can, which is THC-free and sugar-free ensuring a pure and wholesome indulgence.
This CBD sparkling water is the epitome of wellness, being gluten-free and vegan-friendly to accommodate a variety of dietary preferences. Plus, the lineup comes with five distinct flavor options:
Raspberry:

Experience the bright and tart burst of raspberry that invigorates your senses and quenches your thirst with each sip.

Blackberry

: Dive into the bold and rich notes of blackberry that dance across your taste buds, leaving you refreshed and rejuvenated.

Blueberry Pomegranate:

A fusion of two superfruits that provide a harmonious blend of sweet and tangy flavors, delivering an exquisite taste adventure.

Blood Orange:

The zesty allure of blood orange creates a delightful sensation, transforming each sip into a refreshing and invigorating journey.

Lemon Grapefruit:

Revel in the harmonious tang of lemon and grapefruit, resulting in a rejuvenating citrus symphony that's perfect for any adventure.
WYLD CBD sparkling water is more than just a beverage; they are a companion for life's adventures. Bursting with bright fruit flavor, they are ideal for all your endeavors.
CBD Type:

CBD isolate

CBD Strength:

25 mg per shot

Quantities:

1, 8 shots

Flavor:

mixed berry, citrus, peach

COA:

available
Leweli CBD shots are your gateway to targeted relaxation and wellness in a single, convenient bottle.
These 25 mg CBD isolate shots offer a sugar-free and THC-free experience designed to enhance your daily well-being. With three distinct variants, each with its own unique taste and set of benefits, Leweli CBD shots provide a perfect solution for various needs, such as:
Sleep CBD shots: For those seeking the tranquility of a restful night's sleep, Leweli's sleep CBD shots are your go-to. These delightful drinks are carefully blended with natural ingredients known for their calming and sleep-promoting properties.
In addition to CBD, they contain chamomile extract, GABA, and lemon balm extract, providing a soothing symphony that prepares your mind and body for a peaceful slumber.
Focus CBD shots: Distractions can be a constant challenge, and that's where Leweli's focus CBD shots come into play. These shots are designed to enhance your concentration and keep you on track.
Enriched with ginseng extract and guayusa tea extract, they offer a remarkable ability to boost cognitive clarity, allowing you to tackle tasks with focus.
Relax CBD shots: When life becomes overwhelming, Leweli's relax CBD shots are your personal oasis. These shots are expertly blended with ashwagandha, lavender, and passionflower, natural ingredients renowned for their calming properties.
These CBD shots offer a convenient and flavorful way to incorporate the soothing qualities of CBD into your daily routine. Whichever variant you choose, these shots are your secret to staying cool, calm, and collected in all the right ways.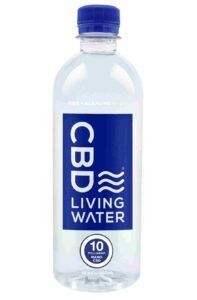 CBD Type:

Broad spectrum

CBD Strength:

10 mg per bottle

Quantities:

1, 24 bottles

Flavor:

COA:

available

Customer Review:

"I really enjoy the CBD water. Not only for the relaxing effects of the 10 mg of CBD but it helps me drink enough water for the day. The water tastes good and is refreshing."
CBD Living Water is the perfect blend of purity and wellness. Each BPA and BPS-free bottle contains 10 mg of high-quality nano-CBD, meticulously crafted to enhance your well-being.
This revitalizing water is not just any water; it's alkaline water with a pH of 9+ designed to help reduce acidity and inflammation within your body. Every sip takes you on a refreshing journey.
You can choose your hydration in a convenient single bottle or opt for a pack of 24, ensuring you never run out of this exceptional experience. CBD Living Water's taste is pure, with no bad aftertaste, just like sipping from a mountain spring.
This broad-spectrum water is THC-free and vegan-friendly, making it accessible to all, and with over 400 positive reviews on our website, this is one of the best health-conscious CBD drinks on the market.
How did we choose the best CBD drinks?
While selecting the CBD drinks for this article, we observed many different types of CBD drinks and beverages and used a set of criteria to determine the best among them. The criteria include:
CBD drink quality:

We prioritized drinks from reputable companies known for their commitment to quality and safety. This involved researching the brands, their sourcing of CBD, manufacturing processes, and adherence to good manufacturing practices (GMP).

Third-party lab testing:

We ensured that the CBD drinks we selected underwent third-party lab testing. These tests confirm the absence of contaminants like pesticides, heavy metals, and residual solvents, as well as verify the accuracy of CBD content.

CBD content:

The CBD content in the drinks was a crucial factor in our selection. We looked for products that provided a clear and accurate CBD dosage per serving, allowing you to make informed choices based on their needs.

Flavor profile:

Taste is an important aspect of CBD drinks, as it can significantly impact the overall experience. We considered a variety of flavor options to cater to different preferences.

Variety of drink options:

We aimed to include a diverse range of CBD drinks, including still and sparkling waters, shots, powder, teas, and other beverage types. This ensured that our selection catered to different preferences and purposes.

User reviews:

We also examined user reviews and feedback (if available) to gauge real-world experiences with these drinks.
Read More: CBD Buyers Guide
CBD drinks are considered safe for consumption when approached responsibly. The key to ensuring safety is choosing drinks from reputable CBD brands that provide third-party lab testing results.
These independent tests confirm the absence of harmful contaminants and verify the accuracy of the CBD content in the product. It's also advisable to consult with a healthcare professional before incorporating CBD drinks into your routine, particularly if you have underlying health conditions or are taking medications.
This ensures that CBD is compatible with your individual health profile.
A CBD drink works by delivering CBD to your body's endocannabinoid system (ECS). The ECS is a complex network of receptors and neurotransmitters that plays a crucial role in maintaining balance and regulating various bodily functions, including mood, pain perception, sleep, and immune response.
When you consume a CBD-infused drink, the CBD is absorbed into your bloodstream through your digestive system. From there, it travels to various parts of your body, including the brain and organs.
Once in your bloodstream, CBD interacts with the ECS, specifically binding to cannabinoid receptors known as CB1 and CB2 receptors. This interaction can have various effects on your body, depending on factors like the CBD dosage, your individual metabolism, and the quality of the drinks.
Additionally, the onset and duration of effects from a CBD drink can differ, with some people experiencing the benefits relatively quickly, while for others, it may take a bit longer.
How long do CBD drinks take to work?
The time it takes for CBD drinks to take effect can vary from person to person and depends on several factors, including your metabolism, the dosage, the type of CBD drink, and the contents of your stomach.
Here's a general timeline to provide you with a better understanding:
Initial onset (20 minutes – 1 hour):

Most people begin to notice the effects of CBD within 20 minutes to 1 hour after consuming a CBD drink. During this period, the CBD is absorbed through your digestive system and enters your bloodstream.

Peak effects (1 – 3 hours):

The peak of the effects typically occurs within 1 to 3 hours after consumption. This is when you will experience the most significant effects such as reduced stress and anxiety, pain relief, and improved relaxation.

Total duration (3 – 8 hours):

The duration of CBD effects can vary but often lasts around 3 to 8 hours. After reaching peak effects, the influence of CBD gradually diminishes as your body metabolizes the compound.
Again, the duration can be influenced by various individual factors and the quality of the CBD product.
It's important to note that some people may feel the effects more quickly, especially if they have a fast metabolism or if they take CBD on an empty stomach. Conversely, others might experience a longer onset time if they have a slower metabolism or if they've consumed a substantial meal before drinking a CBD-infused beverage.
However, it's recommended to start with a lower dose of CBD drink, monitor the effects, and adjust as needed to find the optimal balance that suits your individual needs and preferences.
What are the benefits of CBD drinks?
CBD drinks offer a variety of potential benefits, such as:
Stress and anxiety relief:

CBD is known for its potential to reduce anxiety and stress. When consumed as a drink, it can help calm the mind and promote relaxation. Some people also find that CBD drinks are a convenient and enjoyable way to unwind after a long day or manage situational anxiety.

Pain and inflammation relief:

CBD has anti-inflammatory and analgesic (pain-relieving) properties. It interacts with the endocannabinoid system, which plays a role in pain perception. CBD drinks can be particularly useful for people dealing with chronic pain, inflammation, or other physical discomfort.

Improved sleep:

Consuming a CBD drink in the evening can help you relax and have a good night's sleep since CBD can improve sleep quality by reducing factors that contribute to insomnia, such as anxiety, tension, or pain.

Enhanced focus and clarity:

Some users report heightened mental clarity and focus after consuming certain CBD drinks. This effect is particularly valued by people looking to boost productivity and stay alert without the jittery side effects that are often associated with caffeine.

Better alternative to alcohol:

CBD drinks are also a great alternative to alcohol. For starters, it's safer and does not cause any hangover, but you will still feel the necessary relaxation.
It's important to note that the effects of CBD drinks can vary from person to person, and not everyone will experience all of these benefits. Your individual responses depend on factors like dosage, metabolism, the specific CBD drink consumed, and the presence of other ingredients in the beverage.
What are the side effects of CBD drinks?
While CBD is safe and well tolerated by most people, some people may experience certain drawbacks from using CBD drinks, such as:
Dizziness:

Some individuals, particularly those who are sensitive to CBD drinks or who consume it in much higher doses, may experience mild dizziness or lightheadedness. This effect is usually temporary and can be managed by sitting down and resting until it passes.

Changes in appetite:

CBD drinks can affect appetite, although this effect varies from person to person. Some individuals may experience an increase in appetite, commonly referred to as "the munchies," while others may notice a decrease in appetite. However, these changes are typically mild and temporary.

Diarrhea:

In some cases, CBD drinks consumption, especially in large doses, can lead to gastrointestinal discomfort, including diarrhea. This side effect is relatively rare and is more likely to occur with very high doses.
It's important to note that the side effects of CBD are generally rare and temporary. The likelihood of these side effects can vary depending on factors such as your sensitivity to CBD, the dosage consumed, and the other ingredients present in a CBD drink.
Importantly, the risks can often be minimized by starting with a lower CBD dosage and gradually increasing it until you find the right balance for your needs.
Additionally, choosing high-quality CBD drinks from reputable manufacturers can help reduce the risk of experiencing adverse effects, as reputable brands adhere to strict quality and safety standards.
Are CBD drinks addictive?
CBD drinks are not addictive as they offer a way to potentially experience the benefits of CBD without the risk of developing a dependence.
CBD works on a different pathway in the brain and does not produce the euphoric effects or the addictive potential of substances like alcohol or certain recreational drugs.
CBD drinks offer a convenient and enjoyable way to incorporate the potential benefits of cannabidiol into your daily routine.
When selecting a CBD drink, remember to research reputable brands, check lab results, and consider your specific needs and desired effects.
As with any wellness product, it's essential to consult with a healthcare professional before incorporating CBD into your daily routine, especially if you have underlying health concerns or are taking medication.
With the right choice and responsible use, CBD drinks can be a delightful addition to your wellness journey.
The information in this article is intended for general use only and may not always be appropriate for everyone's needs. Your health and wellness are unique to you, so before acting on anything we say, seek personalized advice from a medical professional.
We value the accuracy and editorial integrity of all our articles, and we strive to ensure that the content we publish is accurate and up-to-date to the best of our knowledge.
This article contains affiliate links, but any opinions expressed in our content are solely those of the author and have not been provided by or endorsed by any advertisers.