Delta-8 THC comes in various forms but most people only know about the popular ones which are delta-8 flowers, vapes, and gummies.
Still, there are many delicious delta-8 edibles available on the market that many people do not know about.
In this article, we have mentioned 6 of the best delta-8 edibles from the top brands that you can shop online in 2023.
Quick links for the 6 best delta-8 edibles of 2023
This Article Contain Affiliate Links
What are delta-8 edibles?
Edibles are consumable goods that have a pleasant taste and appeal, like chocolates, mints, candies, and more. Furthermore, if an edible product is infused with the psychoactive cannabinoid delta-8 THC, it becomes a delta-8 edible.
Delta-8 edibles have become increasingly popular among many people who are seeking them for their benefits, which include promoting sleep, reducing anxiety, and decreasing inflammation.
How did we choose the best delta-8 edibles?
We examined many top delta-8 brands while looking for the best edibles, and we only included the ones that met our criteria of quality, purity, and transparency, which include:
A delta-8 edible must be tested by a reputable third party and contain an updated COA (certificate of analysis).

We only considered delta-8 companies that have a positive brand image and a solid presence in the industry.

We checked what other kinds of other ingredients a delta-8 edible contains and whether it is safe for consumption.

We checked whether the delta-8 edible is free from pesticides, GMOs, metal solvents, and other harmful contaminants.

We also considered the prices of the edibles and only included the ones that offer the best value for money.

We also read many customer reviews (if available) of delta-8 edibles to get a general idea about their effectiveness.
Under $30 = $

Between $31 to $50 = $$

Over 50$ = $$$
Detailed review of the 7 best delta-8 edibles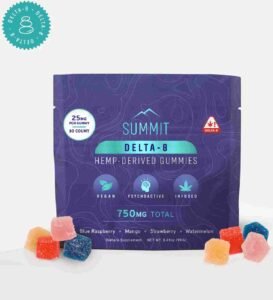 Delta 8 Strength:

25 mg per piece

Quantity:

30 counts

Flavors:

blue raspberry, mango, strawberry, watermelon

Price:

$$

COA:

Available

Customer Review:

"Finally found a company I can trust. So many crappy products out there, but these stand apart. This is a clean, high quality delta 8 gummy."
Delta-8 gummies are still one of the most popular delta-8 edibles, and with many good choices on the market, Summit stands at the top.
Summit is one of the top delta-8 gummy brands that make high-quality edibles at reasonable prices that are loved by hundreds of users, moreover, they also offer free shipping on every purchase.
A pack of these vegan, gluten-free gummies offers four delicious flavors, and each gummy is fused with 25 mg of delta-8 THC, which is enough even for the most tolerant people, although many prefer to divide a gummy in half or quarters for a better experience.
According to the website reviews, users of Summit delta-8 gummies found their effects to be relaxing, anxiety-relieving, and sleep-promoting with an appropriate high.
Chill Plus Delta-8 THC Chocolate Bar
Delta 8 Strength:

500 mg per bar

Quantity:

15 chocolate squares

Flavors:

a combination of dark, milk, and white chocolates with almonds, caramels, and popping candy options

Price:

$

COA:

Available
Chill Plus delta-8 chocolates are one of our favorite edibles that not only fulfill your chocolate cravings but also help you chill out and relax.
These delta-8 chocolate edibles come in 12 flavor options, which are a mix of milk, white, and dark chocolates with various toppings that you have to try to know how good they are.
Furthermore, each bar of these edibles is infused with 500 mg of delta-8 THC goodness, and a single-bit-sized piece will deliver 33 mg of pure delta-8 bliss that will put you in a good mood, although 33 mg can be a lot for most people, so you can break them further for a more balanced high.
Plain Jane Delta 8 THC Mints
Delta 8 Strength:

5 mg per mint

Quantity:

30 mints

Flavors:

peppermint

Price:

$

COA:

Available

Customer Review:

"really enjoy the refreshing peppermint combined with a very subtle calming effect for me. I'm going to make sure I have these mints in my pocket around the Holidays this year! Fresh breath with a smile! I recommend!"
Plain Jane is one of the top CBD brands that also dominates the delta-8 industry, and the thing that puts this company above the rest of the competition is its quality products at the most reasonable prices, including these delta-8 edibles.
Plain Jane's delta-8 mint edibles come in a 30-count box, and with each mint, you will get 5 mg of delta-8 THC, which will put you in a good mood with a fresh breath.
These peppermint-flavored edibles are designed to be compact and discrete.
While they are not the most potent edibles on the list, they will surely help you feel more focused and calm, and you can always take more if you feel the need.
Hometown Hero Delta-8 Square
Delta 8 Strength:

200 mg per square

Quantity:

4 pieces per square

Flavors:

fruity rice cereal and marshmallows

Price:

$

COA:

Available

Customer Review:

"These little snacks get the mood right while also being insanely tasty. Cannot recommend enough!"
Hometown Hero is another one of the top delta-8 brands that are loved by thousands of people in the US. They are famous for their incredible customer service, and currently, they are also offering free shipping on every online order.
Hometown Hero's delta-8 squares are a new kind of edible that is made by combining gooey marshmallows with fruity rice cereal to make this delicious, crispy, and chewy treat.
This edible contains 200 mg of delta-8 THC in a square, which makes it a strong delta-8 edible if you consume the whole thing in one sitting, but you can break the square into many smaller pieces for a more balanced high.
According to the website reviews, people find these edibles to be incredibly tasty, potent, and effective.
Inda Clouds Delta-8 Cereal Treats
Delta 8 Strength:

500 mg per bag

Quantity:

10 pieces per bag

Flavors:

minty thins, muddy budz, or snackers

Price:

$

COA:

Available

Customer Review:

"Nostalgic. Used to eat chocolate that was very similar to this as a kid. Brought back good memories and I was high af"
Inda Clouds delta-8 cereal treats come in three delicious flavor options that are covered with a layer of cocoa, and with each bag, you get 10 pieces of edibles that look like common nugs of a cannabis flower.
Each edible carries 50 mg of potent delta-8 THC punch that will just melt in your mouth and give you a long-lasting high.
Moreover, the company also does extensive multi-stage lab tests to ensure the quality of its edibles remains the best, which it is.
Delta 8 Strength:

1000 mg or 900 mg per bag

Quantity:

10 or 12 pieces per bag

Flavors:

cookie, brownie, crispy, and fruity bites

Price:

$$

COA:

Available

Customer Review:

"I ordered the delta 8 brownie bites and they are amazing! Also a hell of a deal. You guys have a new lifelong customer."
Stay Lit delta-8 bites consist of cookies, brownies, crispy bites, and fruity bites that are infused with 1000 mg of delta 8 THC.
While each bag of Stay Lit bites consists of 10 single edible pieces, each of which can contain 100 mg of delta-8, making them highly potent edible.
However, you can always divide a single edible piece into smaller servings for a more balanced high.
Can delta-8 THC edibles get you high?
Delta 8 THC exhibits psychoactive and intoxicating properties, meaning it can make you high. Although it is not as intense as the high of typical cannabis edible, or delta 9 THC, you will definitely notice the head and body buzz and a calm and relaxed sensation from consuming delta-8 edibles.
If you are new to the THC world then even a dosage as low as 10 mg of delta 8 edible can put you in a couch lock for a couple of hours.
How many delta-8 edibles should you take?
The quantity or dosage of delta 8 edible really depends on your tolerance level. If you are a regular cannabis user and have a high tolerance to THC, you may require a dosage of 25 mg to 40 mg of delta-8 to feel any effects.
However, if you have a low tolerance and don't use cannabis, a dosage of 5 mg to 10 mg of delta 8 should be enough to make you feel high for a long time.
If you haven't used any kind of THC but are planning to try it, then a delta-8 edible is a good place to start. However, try the lowest dosage first, say 5 mg or less, and see how you feel. In most cases, you are going to feel the effects of delta-8 even at a dosage of 5 mg.
How long does delta-8 edible high last?
The duration of the high from a delta-8 edible depends on various factors, such as the quality and potency of the edible, while your tolerance level, metabolism, and current food intake also play a huge role.
In most cases, you can feel the effects of an edible within thirty minutes to an hour of consumption, and its effects can last up to two to six hours.
There you have it, our list of the best delta-8 edibles that you can shop for online. All of them are high-quality edibles that will surely give you a pleasant experience.
Moreover, don't forget to check the current delta-8 law of your state and the COA of an edible before shopping, and if you live in a state where delta-8 is illegal, then try delta-9 edibles.
Additionally, if you are looking into cannabinoids just for their therapeutic benefits and not the psychoactive effects then you should also check out, CBD edibles.
The information in this article is intended for general use only and may not always be appropriate for everyone's needs. Your health and wellness are unique to you, so before acting on anything we say, seek personalized advice from a medical professional.
We value the accuracy and editorial integrity of all our articles, and we strive to ensure that the content we publish is accurate and up-to-date to the best of our knowledge.
This article contains affiliate links, but any opinions expressed in our content are solely those of the author and have not been provided by or endorsed by any advertisers.