If you're looking for a convenient and delicious way to experience the psychoactive effects of delta-9 (commonly known as delta-9 THC), edibles may be just what you need.
Delta-9, one of the most abundant cannabinoids found in cannabis and hemp plants, was once only accessible through cannabis only. However, thanks to the 2018 Farm Bill, all hemp-derived cannabinoids, including delta-9, have become federally legal in the US, making it possible to enjoy this compound in all 50 states, legally.
While other hemp-based products like CBD or delta-8 are available, delta-9 edibles remain a popular choice due to their strong effects and delectable flavors. However, it can be challenging to find high-quality, hemp-derived delta-9 edibles from reputable brands, given the lack of information and regulations in the market.
To help you out, we conducted extensive research and compiled a list of the top six delta-9 edibles from trusted companies that you can purchase online in 2023.
Quick links for the 6 best delta-9 edibles
This Article Contains Affiliate Links
What are delta-9 edibles?
Delta-9 edibles are food products infused with the psychoactive compound delta-9 THC. Edibles can come in many forms, like gummies, chocolates, taffy, and more. To put it simply, delta-9 edibles allow you to enjoy a tasty treat while also experiencing the euphoric and relaxing effects of the THC.
How did we choose the best delta-9 edibles?
To determine the best delta-9 edibles among many options, we considered a variety of factors, such as:
Farm Bill Compliance: We only considered a hemp-derived delta-9 edible that complied with the 2018 Farm Bill, which states that any CBD or THC product that derives from hemp must contain less than 0.3% of delta-9 THC by dry weight to be legal in the US.
Third-party testing and updated COA:

We only considered delta 9 edibles that have been tested by reputable third parties and have an updated COA attached to ensure their potency and ingredient information.

Reputable brand image:

We only considered delta-9 THC brands that have a positive brand image and a solid presence in the industry to ensure that we were recommending reliable products.

Safe and high-quality ingredients:

We considered what other ingredients a delta-9 edible contains, and we made sure that they were free from harmful contaminants such as pesticides, GMOs, and metal solvents.

Price and value for money:

We considered the prices of the delta-9 edibles and only included the ones that offered the best value for money.

Customer reviews:

To get a general idea about the effectiveness of the delta-9 edibles, we read many customer reviews to see how satisfied people were with their experience.
By considering these key factors, we were able to create a comprehensive list containing six of the best delta-9 edibles that are available online.
Under $10 = $

Between $11 to $30 = $$

Over 40$ = $$$
Detailed review of the 6 best delta-9 edibles
Delta 9 Strength:

15 mg per piece

Quantity:

20 counts

Flavors:

peach, green apple, strawberry

Price:

$$$

COA:

Available

Customer Review:

"The real deal. I have purchased these gummies from Summit several times. They are just as the website describes. The taste and texture are pleasant, and they produce a nice effect. They really help when I'm stressed out."
Summit THC is a well-known gummy brand that offers only delta-8 and delta-9 THC gummies and nothing else. Nevertheless, their delta-9 gummies are far superior in quality and effects than others available online, and they also offer free shipping on every single order.
These D9-infused gummy edibles come in a 20-count box, and they pack a 15 mg punch of THC, which may not seem like much, but even half a gummy is enough for most people in producing satisfying effects.
Additionally, the gummies are vegan, gluten-free, and do not contain any artificial flavors or colors. Instead for flavors, they contain different natural fruit extracts that make them absolutely clean and delicious.
While these delta-9 edibles may not be the cheapest option on the market, they provide good value for money with their shopping experience, transparent approach, premium ingredients, consistent dosage, and a satisfying high.
Hometown Hero Delta 9 Squares
Delta 9 Strength:

300 mg per square

Quantity:

4 to 8 pieces per square

Flavors:

rainbow, cinna crunch, cocoa squares

Price:

$$

COA:

Available

Customer Review:

"Delicious and calming. I cut each square into four pieces and dosed in smaller amounts. That was perfect for me. Not only was it tasty, but it left me feeling very relaxed without a care in the world. Can't wait to order another."
Hometown Hero is one of the best delta-9 brands, famous for its world-class cannabinoid products and best-in-class customer service. They have also mastered the art of producing the most delicious and unique delta-9 edibles in the industry, like the delta-9 squares.
These delta-9 square edibles are made with melted marshmallows mixed with crispy rice cereal, and a block of the square contains 300 mg of hemp-derived delta-9 THC, which is pretty strong but can be further divided into 4 to 10 pieces depending on your tolerance, for a more manageable high.
Moreover, these edibles are created by a locally owned artisan bakery that makes them in a variety of delicious flavor options that are loved by so many people. Additionally, the brand also gives great discounts on these, if you shop in bulk.
The brand also focuses on its packaging, as all its products come in child-proof packaging; moreover, they also offer free shipping in all 50 states of the US.
Hometown Hero Delta 9 Taffy
Delta 9 Strength:

15 or 20 mg per piece

Quantity:

10 or 30 counts

Flavors:

tutti frutti, birthday cake, cotton candy, caramel, peppermint, mixed

Price:

$$ – $$$

COA:

Available

Customer Review:

"These Tutti Frutti edibles are my absolute favorite. I've tried a good assortment of D9 edibles and these are by far the best. Both the taste and effects are amazing. Definitely try these!"
Hometown Hero is one of the best places to buy delta-9 THC edibles online because they have a large selection of high-quality edibles, and an amazing customer support team, while they offer free and fast shipping on all orders.
Delta-9 taffy edible is another amazing product from this brand that people just can't seem to resist. Each piece of this saltwater taffy contains 15 mg of live-rosin delta-9 THC concentrate, which is far more potent than it looks.
Additionally, they come in five flavor options, and if you can't decide on one, you can always try the mixed flavor one, as it contains a bit of all. According to the reviews, many people find these taffies to be the best-tasting delta-9 edibles they have ever tried.
Talking about the effects, this D9 taffy left you feeling energized, focused, relaxed, and very high. While a single piece of taffy can be highly potent, you can always divide it in half for more manageable effects.
Delta Extrax Delta 9 Chocolate Series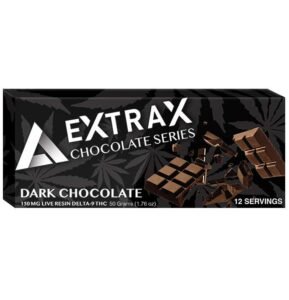 Delta 9 Strength:

150 mg per bar

Quantity:

12 pieces per bar

Flavors:

dark chocolate, milk chocolate, cookie & cream chocolate

Price:

$

COA:

Available

Customer Review:

"My favorite Extrax so far. Great dark chocolate taste, not overly sweet, and it packs a punch. Wife was a first timer to edibles and Delta 9, and she loved it. Will definitely purchase again."
Delta Extrax is among the most famous THC brands, as they offer a wide range of hemp-derived cannabinoid products at affordable prices.
The delta-9 chocolate edibles from this brand are a delightful and practical method to take delta-9 THC. It has three flavor options and 150 mg of THC per chocolate bar, which can be divided into 12 pieces. While a single piece of chocolate delivers approx. 12 mg of THC which is enough to put you in a good mood for a long time.
Moreover, if you've never taken THC before, this delta-9 edible is the ideal place to start; however, for a more manageable experience, cut a single piece of chocolate in half.
Additionally, this brand employs live-resin delta-9 THC in their edibles, which is often stronger than THC that is typically extracted, yet their prices still remain very reasonable.
Delta 9 Strength:

25 mg per piece

Quantity:

2 counts

Flavors:

grape, watermelon

Price:

$

COA:

Available

Customer Review:

"Literally amazing. I'm not used to delta 9, and I ate the whole thing. worked within an hour and lasted me the whole day. 100% recommended."
Binoid is another top brand that has one of the biggest inventories of high-quality cannabinoid products online, like these delta-9 THC lollipops.
This edible is just a plain old lollipop with 25 mg of delta-9 THC infused in it, which makes it a perfect treat for every stressed-out adult. Additionally, it's difficult to divide this delta-9 edible into parts, so make sure to share this with your partner, or you can try the whole thing if you have a high tolerance, but clear your schedule for the day because you will be too stoned for anything else.
Moreover, this delta-9 lollipop comes in a two-count pack, and you can choose between two delicious flavor options.
Delta 9+CBD Strength:

40 mg per piece

Quantity:

1 count

Flavors:

chocolate chip

Price:

$

COA:

Available

Customer Review:

"This Is one of the best Delta 9 edibles I have ever had, it had an amazing buzz and it also was a good tolerance for me. I'll definitely buy again."
TRE-House D9+CBD cookie is the only edible on this list that contains 20 mg of hemp-derived delta 9 THC and it also contains an equal amount of CBD in the mix which substantially boosts its therapeutic benefits
This vegan cookie is substantial in size, which will give you a good time at least for a couple of sessions, and it tastes just like a normal chocolate chip cookie. Additionally, the quality it offers for such a low price makes it one of the most economical delta-9 edibles online.
Do hemp-derived delta-9 edibles work?
Hemp-derived delta-9 edibles do work and they also get you stoned, which is not much different than any cannabis edibles because in both cases, the active ingredient is delta-9 THC, so it's highly likely that both their effects will be similar but hemp has much lower potency of THC so it will not be as overwhelming as cannabis.
Additionally, hemp-derived delta-9 edibles can be effective in producing all the desired effects of weed edibles, such as relaxation and euphoria. However, the effectiveness can vary depending on the quality of an edible, dosage, and individual tolerance.
How many delta-9 edibles should you take?
The recommended dose for delta-9 edibles is often listed on the packaging or on the product's website; however, the quantity or dosage of an edible highly depends on your tolerance level.
However, in most cases a dosage of 5 to 10 mg of delta-9 edible will be enough to get you stoned for a long time; however, if you are a regular cannabis user, you may require a minimum dosage of 10 to 20 mg to feel any effect.
Nevertheless, if you are using a delta-9 edible for the first time, it's important to start with a low dose, say 5 mg and wait at least 2 to 3 hours for its effects to kick in before consuming more.

It's also recommended that you avoid consuming multiple edibles at once, or it can result in unwanted side effects such as anxiety and munchies.
How long do delta-9 edibles take to kick in?
A delta-9 edible typically takes 30 minutes to 2 hours to take effect, but it highly depends on the dose and individual factors such as metabolism and body composition.
Additionally, the onset time of delta-9 THC can also be affected by factors such as your tolerance level, the size and duration of your last meal, and the specific type of delta-9 edible you consumed.
What are the side effects of delta-9 edibles?
If you take delta-9 edible in huge quantities, it can cause certain side effects like dry mouth, increased heart rate, bloodshot eyes, increased appetite, and impaired coordination. At higher dosage, delta-9 THC can also cause anxiety and paranoia in certain individuals.
Although the side effects are rare, they're only a cause for concern if you consume low-quality THC edibles in large quantities. Moreover, if you are looking for something milder than delta-9 THC, you could try delta-8 edibles.
Do delta-9 edibles show up in a drug test?
Hemp-derived delta-9 can be detected in a cannabis drug test. Because eating delta-9 edibles will cause the THC in them to be metabolized in your body and enter your bloodstream, eventually spreading throughout your body.
Consequently, if you undergo a drug test, the test may not distinguish between THC from cannabis and THC from hemp. This implies that consuming delta-9 edibles could result in a positive on a cannabis drug test.
It is important to keep in mind that even hemp-derived delta-9 edibles can contain up to 0.3% THC, which is too little, but it will build up in your system if you use them for a long time. However, it is always best to check the specific drug test requirements and consult with a professional if necessary.
There you have it, our list of the six best delta-9 edibles in the form of gummies, chocolates, lollipops, and more that you can shop online. Additionally, we also provide all the information you need to make an informed decision.
With the growing popularity of hemp-derived delta-9 products, it is now legal to purchase them in the US, and with the convenience of online shopping, it's never been easier to buy your favorite delta-9 edibles.
Additionally, if you are not interested in getting stoned and only want to use cannabinoids for their therapeutic benefits, you should try CBD edibles.
The information in this article is intended for general use only and may not always be appropriate for everyone's needs. Your health and wellness are unique to you, so before acting on anything we say, seek personalized advice from a medical professional.
We value the accuracy and editorial integrity of all our articles, and we strive to ensure that the content we publish is accurate and up-to-date to the best of our knowledge.
This article contains affiliate links, but any opinions expressed in our content are solely those of the author and have not been provided by or endorsed by any advertisers.