Delta 8 THC has become one of the fastest-growing wellness supplement industries in the US because it's a natural, hemp plant-derived compound that provides a great deal of relief from daily stress and anxiety while also delivering slight psychoactive effects, aka "high".
There are many different kinds of delta 8 THC products on the market, but many people still prefer gummies over others. However, due to the unregulated nature of this industry, finding a decent delta 8 gummy brand that sells the best quality gummies at a reasonable price can be a hassle.
So, we created this article for people who are looking to try delta 8 gummies from the best delta 8 gummy brands in 2023.
Quick Links to the 3 Best Delta 8 THC Gummy Brands
This Article Contain Affiliate Links
How Did We Choose the Best Delta 8 THC Gummy Brands?
While searching for the best delta 8 gummy brand, we vetted many companies, but only a handful of them qualified for our search criteria and made this list, which includes:
Company's Value and Brand Image: We checked how long a delta 8 THC gummy brand is in the business and whether they have credibility and a positive brand image or not.
Shopping Experience:

We considered how user-friendly a delta 8 company's website is, and whether it is convenient to shop for delta 8 gummies on their website or not.

Farm Bill Compliance:

We checked whether a Delta 8 gummy brand follows the

2018 Farm Bill

, which states that a CBD or THC product must come from hemp and contain less than 0.3% of THC to be federally legal in the US.
Quality of Hemp:

Hemp is the major ingredient in any delta 8 THC gummies so we considered a company that uses organic high-quality, US-grown hemp and is transparent about the processes used in the production.

Certificate of Analysis (COA):

We checked whether the delta 8 gummy had been lab-tested by an independent third party for quality, purity, and authenticity for every batch that a company produces. The COA is an essential piece of document that mentions THC, CBD, and other contents. It also mentions whether the delta 8 gummies are free from GMOs, pesticides, heavy metals, and other harmful contaminants.

Customer Support and Reviews:

We checked whether a delta 8 gummy brand has an adequate shipping process and a customer support team to handle any order-related issues. We also looked into various customer reviews to get a general idea about the brand, its products, quality, and effectiveness.
Under $40 = $

Between $41 to $60 = $$

Over 60$ = $$$
Detailed Review of the 3 Best Delta 8 THC Gummy Brands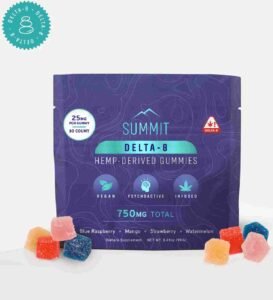 Delta 8 Gummy Strength:

25 mg per piece

Quantity:

30 counts

Flavors:

mixed flavors of blue raspberry, mango, strawberry, and watermelon

Price:

$$

COA:

Available

Customer Review:

"I researched Delta 8 products and found Summit recommended as tops in quality. After using several orders, I must agree. This is an excellent product."
Summit THC is one of the best delta 8 gummy brands that sell high-quality gummies at reasonable prices, which are loved by hundreds of users. Moreover, they also offer free shipping on every purchase.
While many of the other delta 8 brands dabble in creating a wide range of products, Summit THC is only dedicated to making the best quality delta 8 and delta 9 THC gummies, and nothing else.
Furthermore, what sets this brand apart from the competition is that they are so transparent about everything they do in the process of making one of the tastiest THC gummies in the industry.
A pack of Summit delta 8 gummies comes in four flavor options, and each gummy offers 25 mg of delta 8 THC, which is highly potent and strong enough for even the most tolerant people. However, the brand recommends dividing the gummy into quarters or halves for a more balanced high.
Moreover, these Delta 8 THC gummies are vegan, gluten-free, and contain no artificial colors or flavors.
Delta 8 Gummy Strength:

25 mg per piece

Quantity:

20 count

Flavors:

mixed flavors, green apple candy, peach dream, and strawberry bliss

Price:

$

COA:

Available

Customer Review:

"good taste and great high, you can have about 4 highs per gummy and so it's really a great affordable way to get THC."
Binoid is a Los Angeles-based CBD and delta 8 brand that offers a wide range of hemp-derived products at reasonable prices. They have a wide customer base and a solid reputation for being one of the most popular cannabinoid brands in the industry.
Binoid delta 8 gummies are one of their best-selling delta 8 edibles that have over 1200+ happy customers and positive reviews. Additionally, the gummies come in 3 different flavor options, but you can always try them all in the mixed-flavor pack.
Moreover, these vegan and gluten-free edibles are fused with 25 mg of delta-8 THC, which is enough even for the most tolerant people to cause a "high," although many prefer to divide a gummy in half for a better experience.
According to the website reviews, users of binoid delta-8 THC gummies found their effects to be relaxing, pain-relieving, anxiety-relieving, and sleep-promoting, with an appropriate high.
Delta 8 Gummy Strength:

100 mg per piece

Quantity:

10 count

Flavors:

grape, green apple, watermelon

Price:

$$

COA:

Available

Customer Review:

"These are hands down the best gummy product I've ever used, and I've used a lot. I can continue living my life the way I want! Thank you! And thank you for your service, guys!"
Hometown Hero is another great delta 8 gummy brand that offers a huge collection of gummies, which also includes one of the strongest delta 8 gummies in the market, offering a potency of 100 mg of delta 8 THC per gummy.
These potent gummies come in three flavor options; while grape is their most famous flavor, people have also enjoyed green apple and watermelon flavors as well.
Additionally, the company also offers a milder version of delta 8 gummies that comes at 25 mg a piece for a more mellow and well-balanced effect.
The brand is famous for its quality and excellent customer service, moreover, they also offer free, fast shipping on every order.
Is Delta 8 THC Gummies Legal in the US?
The legality status of delta 8 gummies falls into a gray area in the US because according to the 2018 farm bill, a product that comes from hemp and contains less than 0.3% of delta 9 THC should be federally legal in the US, while all the delta 8 products fall into this category, which technically makes them legal.
However, certain states have decided to implement a restriction on delta 8 THC products because it's an artificially made cannabinoid and hasn't been researched thoroughly.
As the law around delta-8 is constantly changing, whenever you shop for delta-8 gummies from any brand online, check the current shipping policy to know whether they ship to your location.
And if you live in a state where delta 8 is illegal, you can always try hemp-derived delta 9 THC as it is legal in all 50 states.
Delta-8 THC Gummies: Can They Get You High?
Delta-8 THC is a psychoactive compound similar to delta-9 THC or cannabis, which means it can get you "high."
Although. The high of delta 8 THC is milder compared to delta 9 THC, so you will notice its effects in the form of a head and body high as well as a calm and relaxed feeling but even at high dosage, it will not lead to paranoia or discomfort.
That concludes our list of the three best delta 8 gummies brands that we highly recommend. All of these brands are the best at producing top-quality delta 8 gummies and they also offer free delivery on online orders.
Moreover, don't forget to check the current Delta 8 law of your state, and if you live in a state where delta 8 edibles are illegal then try CBD edibles.