Are you to looking incorporate Cannabis into your sex life to make it more sensual, pleasurable, and enjoyable?
Are you having trouble getting it on with your partner or looking for a way to make your sexual experience more fun and long-lasting?
Are looking for the perfect strain of weed for Sex?
If the answer to any of the questions is Yes, then you come to the right Article. If you live in one of those places where weed is legal for recreational use, then you can certainly incorporate weed in your life to make sex more enjoyable.
Cannabis is a miracle plant that has many medical and recreational benefits. People all over the World use Cannabis to ease their Anxiety, Stress, Depression, and even use it to enhance their Sex Life.
Is Weed really good for sex?
Most of the time, people's sex life are affected by the typical Stress of their daily routine, and smoking Cannabis provides relief in that area and so much more, so in most cases smoking weed before (or after) sex is not a bad idea.
There are even studies that were done on men and women that claim that a little Cannabis session before sex does in fact boosts their libido, makes them feel calmer and more aroused, and positively affects their overall sexual experience.
Is there any particular strain of Weed for it?
As a matter of fact, there are thousands of cannabis strains in the market, and choosing one that works best for everyone is rather difficult. However, there are some strains that are generally better for sex than others.
Although our bodies process Cannabis differently, it is important to understand that what works for other people does not guarantee that it will work for you, so keep an open mind and try to explore different strains before choosing one.
In this article, We have come up with a list of the best marijuana strains for sex that we found to have boosted people's libido, make them feel more aroused, and helped them achieve more long-lasting and pleasurable experiences with their partners, and some are even good for a solo session.
The best strains of Weed for sex are:
Amnesia Haze is a Sativa dominant Hybrid strain (80:20), which has a THC content of 25% and has a fresh, fruity taste.
Amnesia Haze Cannabis strain fills your head with creative ideas, It helps you feel calm, relaxed, and euphoric.
The effects of Amnesia Haze make it a perfect strain for couples who want to spark up their sex life or want to try new things in bed.
Blue Cheese is an Indica dominant hybrid strain (80:20), that has a THC content of 20% and as the name suggests, it tastes like Blue Cheese.
This marijuana strain helps calm your nerves, makes you feel happy, euphoric, and relaxed. While the Sativa portion also gives you confidence and a little burst of energy, which is a good time to start your other session.
If your sexual experience is new, and you or your partner have performance anxiety, then blue cheese strain will be a good option for you.
Also, keep post-coitus snacks nearby and embrace for the munchies.
Do-Si-Dos is an Indica Dominant hybrid strain (70:30) that has around 30% of THC content and less than 1% of CBD. It has an earthy and citrus-like taste.
It is an ultimate love-making cannabis strain full of terpenes that provides ease in Stress and Anxiety and gives a burst of energy which further leads to full-body relaxation.
With the high dosage of THC content, a few puffs of Do-Si-Dos will quickly knock your socks off and make you wanna do kinky stuff, and it's also great for solo sessions.
Gorilla Glue is an Indica dominant hybrid strain (60:40) that has around 28% of THC content. It has a coffee or chocolate-like taste.
This Cannabis strain has a huge punch that offers a sedating body high and if you are not careful you might end up in a couch lock followed by giggles.
If you and your partner are experienced stoners, you can certainly try a few puffs of Gorilla glue for a night of passionate lovemaking followed by a good night's sleep.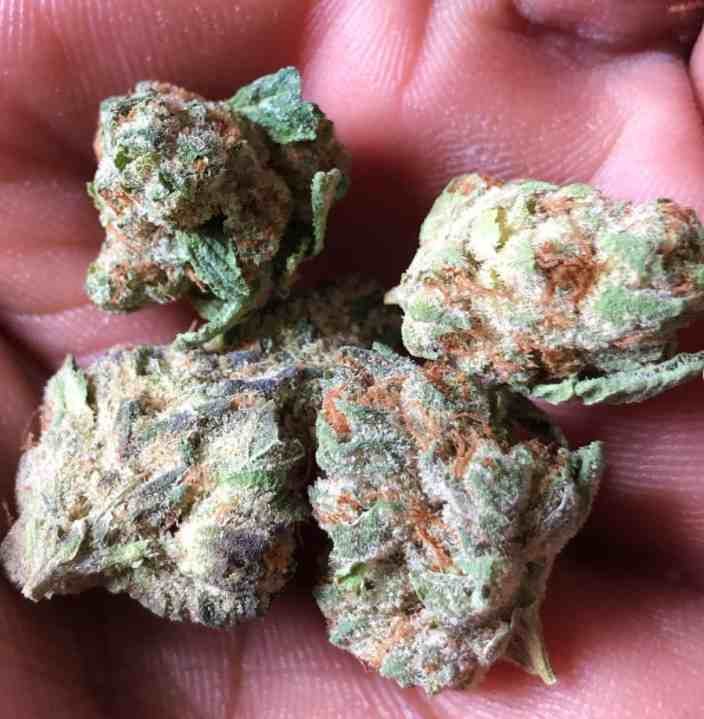 Girl Scout Cookies or GSC is another Indica dominant hybrid strain (60:40) that has around 28% of THC and 1% of CBD. This beautiful cannabis strain has a sweet earthy flavor.
GSC is known to put people in a relaxed, and sharp state while their senses are further enhanced. This particularly tasty strain is known to make people feel more aroused and helps them achieve strong orgasms.
It's a perfect strain for a couple that just started seeing each other, It can definitely give a boost to your awkward date night.
Granddaddy Purple or GDP is also known as Green Viagra(not kidding) is an Indica dominant hybrid strain (70:30) that has around 17% to 23% of THC. It has a sweet grape or berry-like fragrance and offers a strong aftertaste.
GDP is known to put people in a relaxed physical and mental state while intensifying their physical senses.
It is one of the best weed strains for sex that offers long-lasting and satisfying pleasure.
Green Crack, also known as Green Crush is a Sativa dominant hybrid Strain (65:35) that has THC levels reaching up to 24%. It has a sweet and tropical citrus flavor.
Green Crack is known for filling people with intense energy. It also helps boost your mood and makes you more creative, euphoric, and happy.
It is a perfect strain for a night of long lovemaking sessions or a weekend of wake and bake and sex all day.
Harlequin is a Sativa dominant hybrid strain (75:25) that has around 4% to 10% of THC and 6% to 15% of CBD. It has a mango-like flavor.
Rich in CBD, Harlequin fills you with brimming energy and makes you feel more focused and clear-headed. It has no psychedelic effects that usually come with a typical Cannabis strain.
It's a perfect marijuana strain for wake and bake, leading up to morning quickie.
Mimosa is a Sativa dominant hybrid strain (70:30) that has a THC content of 17% to 27% and less than 1% of CBD. It has a citrus, fruity-like flavor and a peppery after-taste.
This strain is known for its calming effects and uplifting high. It is also effective in removing Stress, Worry, and Anxiety replacing them with feelings of excitement and happiness.
It's the best strain for people who are nervous in bed or have performance pressure.
Northern light is an Indica Strain that has THC content between 17% to 33%. It has an earthy, sweet, citrus-like flavor.
It's a great weed that offers a relaxing body high with a hint of euphoria, this further calms your nerves and leads you to a trance state.
It is one of the most popular strains in the world that is perfect for long makeout sessions.
Sour Diesel is a Sativa dominant hybrid strain (90:10) that has 17% to 26% of THC and 2% of CBD content. It has a pungent Diesel like fragrance.
This Strain is known for its cerebral high and body relaxing effects. Sour Diesel gives a boost of energy and gets your blood flowing, which makes you wanna do fun stuff. The high also lasts longer, so does you.
It's a perfect strain for a long night of passionate lovemaking.
Trainwreck is a Sativa dominant hybrid strain (80:20) that has THC content ranging from 14% to 26%. It has an earthy, pine-like aroma and a citrus aftertaste.
The trainwreck is famous for hard-hitting head high, followed by intense euphoria, enhanced focus, and giggles.
It's a fast-acting strain, that is perfect for quickie or short sex sessions.
Strawberry Cough is a Sativa dominant hybrid strain (80:20) with THC ranging from 13% to 26%. It has a sweet, strawberry-like flavor.
It is one of the best happiness-inducing strains in the market. It calms your nerves and gives you the courage to try new things. As the name suggests, It also induces coughing when smoked
This lovemaking strain will make you more energetic, confident, and assertive in bed. It also boosts your mood as well as libido.
Wedding Cake, also known as Pink Cookies, is an Indica dominant hybrid strain (60:40) that has THC ranging between 23% to 27%. It has a noticeable sweet aroma that reminds you of Vanilla cake.
This strain has a high THC content that will open your senses and give a feeling of euphoria and calmness with just a single puff.
It's a perfect strain for the long weekends of sex or honeymoon nights.
You can choose the above-mentioned strains as per your requirement, all are best in their department but remember that Weather you are a Beginner to smoking or an experienced stoner, if you are using any weed strain for sex then it is necessary that you and your partner only smoke a few puffs before, Otherwise no matter what strain you choose, it is possible that you will get too stoned to do anything.
Use joints, bongs, Vapes, or Blunts. Avoid using edibles for sex because they are tricky, it is possible that you will be done with your partner before you feel the effects of edible, or you might get too high to do anything.